Serving the Community at Angel Fest
St. Joe welcomed past, present, and future students, as well as their families on October 8 to celebrate and connect with one another at the annual Angel Fest. 
The attendees consisted of all ages- anywhere from future Angels to St. Joe alumnae. Angel Fest is a great opportunity to meet graduates who chose the same path as far as highschool goes. It is a unique experience to get to spend time with other generations of St. Joe Angels.
The seemingly perfect weather conditions this year complemented the wide variety of games set up by students and faculty who volunteered for Angel Fest. These activities included face painting, pony rides, cupcake decorating, plinko, bean bag toss, and much more. 
A spectacular performance hosted by the St. Joe dance team was displayed for the attendees. Another crowd pleaser was the famous bubble bus where children and students alike frolick in a cascade of bubbles as music plays. A barbecue, set up by some of the students' fathers, drew in quite the audience as well.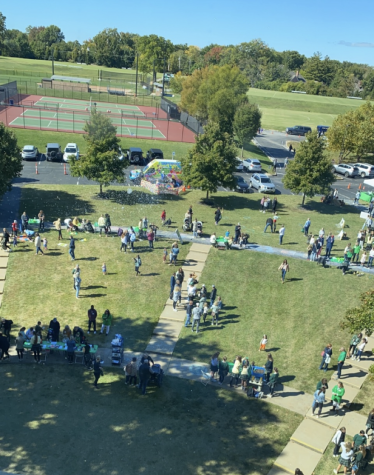 Face painting was a fan favorite of the children attending the event. One volunteer who signed up to help with the face painting station was freshman Maya Zimmerman. 
"It was a beautiful day, full of fun things to do and good company," Maya said. 
Angel Fest highlights the volunteers' help and service to their community. Without dedicated volunteers, Angel Fest would not have the same effect. Freshman Courtney Gardiner reflects on the hard work her fellow volunteers displayed at the event. 
"I am really happy that I got the opportunity to volunteer at Angel Fest because without them it would not be possible," Courtney said. 
She also expresses how important Angel Fest is to her, stating how she has been attending longer than she can remember. Courtney is not the only one impacted by this festival though. It celebrates a bond of community within St. Joe. Angel Fest brings many friends and families together through food, festivities, and friendship.