Diving into The Book Of Lost Names by Kristin Harmel: A Book Review
Her day started off as they always did. A usual morning at the library for Eva Traube Abrams. She was occupied with shelving books when her eyes were met with a familiar sight. One she had not seen in 65 years, but could never forget. Eva froze, only two thoughts running rampant in her brain: one of the book they shared, and one of him. 
The Book of Lost Names by Kristin Harmel is a fast paced, historical fiction novel set during World War II, as well as 2005. The story follows the main character, Eva Traube, —a Jew living in France in 1942— and a handsome forger named Remy, as they work for the secret Resistance network right under Nazi watch. 
After the arrest of her father, Eva found herself in danger. Using her artistic skills, she forged identification documents for herself and her mother. Fearing for their lives, they decided to flee to a small town in the Free Zone. According to their plan, they would go to Switzerland in due time. However, Eva was met with some unexpected circumstances that sent the rest of the story on a different path. 
At the seemingly quiet town of Aurignon, Resistance forces churned behind many innocent doors, and allies were hidden beneath alcoves and Churches, right under Nazi watch. While waiting at the lodge house, sooner or later, Eva found herself a crucial part of this network: working alongside Remy, forging all kinds of identification documents, ration cards, and baptismal certificates for young Jewish children.
In an effort to keep the memory of these children's real identities, Eva and Remy kept records in the Book of Lost Names. When the book reappears, featured in a newspaper in 2005, about 65 years after she has last seen it, Eva feels compelled to find it at once and finally get some answers to her long awaited questions. 
Kristin Harmel illustrates this beautiful, heartfelt story in a unique writing style enjoyed by many readers. French teacher Mrs. Leigh LaMonica, who read and loved this book, especially likes this way of writing in which chapters are set in the main character's present day as well as their past.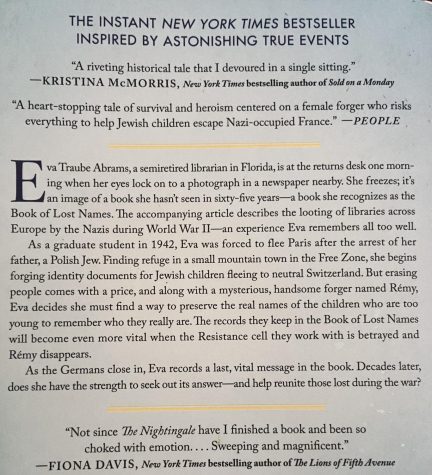 "I like the new trend that is happening right now that someone in the present is investigating something that happened in the past." Mrs. LaMonica said. "It really shows readers how the past affects the present." 
Mrs. Kelly Berry, English teacher teaches Bearing Witness: Holocaust Literature of Extraordinary Lives, read this book as well and loves many aspects included by the author. 
"I like that the author wrote about a strong female character," Mrs. Berry said. "Although the ending doesn't really align with reality, it is a very well written story, in which the author kept you wanting more." 
I loved both of these factors included in the story as well. This book is truly a page turner, and one I highly recommend. It is a beautifully written and emotional piece, bound to resonate within each reader, regardless of one's favorite genre. It left me attached to the lovable characters and absolutely speechless, thus earning itself a perfect 5 out of 5 star rating. The Book of Lost Names took me on a very emotional, wonderful journey, and it is an experience I encourage many to pick up.