Selecting the Perfect Junior Ring Outfit
There are many "dos" and many "don'ts" when selecting a dress for any St. Joe dance, but especially when it comes to the junior ring mass ceremony as well as the night time dance. 
Receiving junior rings is something that many students look forward to. Towards the beginning of junior year the girls are sized by Jostens, the company provider of the rings, and may even request special engravings. 
This 2022-2023 school year, the juniors will be receiving their jewelry on Friday, March 31. Their day will begin with a procession and mass ceremony in the St. Joe gym with parents, peers, teachers, and administrators all present where the juniors will receive their rings.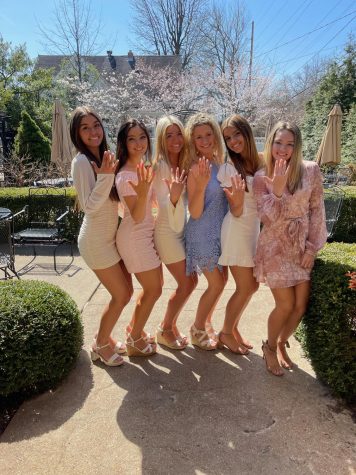 The dress code for this type of event could be described as "Easter mass" or "brunch" dresses. These dresses are on the more conservative side compared to the nighttime dance, as they must cover the shoulders. Many girls wear pastels colors or white; however, this is absolutely not a requirement. As far as jewelry, many like to keep it simple to really accentuate their new ring. When it comes to shoes, most girls do wear heels.
Senior Annie Mortland received her ring in 2022 and has good advice for the class of 2024.
"Make sure they are actually heels you can walk in. You will have to walk in and walk across the stage with stairs in front of everyone along with your parents probably taking videos. The day is packed so just make that one part less stressful and make sure you are comfortable," Annie said. 
The second part of the day's dress code should be very familiar to students who have already attended a St. Joe dance. These are the usual short homecoming-style dresses. The four Bs – boobs, butt, back, and belly – must be fully covered as usual. If not, Ms. Davis will require the student to wear a shirt over her dress while at the dance. 
The girls will of course wear their new green and gold St. Joe class rings along with other jewelry. Most girls will take pictures with their friends and dates before the dance in high heels and then change into sneakers or flat shoes for comfort and also so not to scuff the gymnasium floors.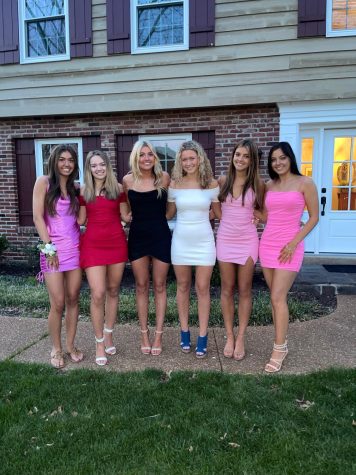 This milestone in a St. Joe girl's highschool career is one that most will never forget, including alumna Sydney Dolan '22.
"It was the longest yet best day. Spend time picking out your outfits and you really love them because there are going to be a million pictures taken and you are going to want to soak it all in," Sydney said.
Junior ring is a big day for St. Joe juniors and all who support them. That ring connects St. Joe students to each other from all over the world, remind them of the education, values, and morals they were taught at the Academy.