Greeting Ms. Beekman
Many students partake in St. Joe athletics, but some may not know the behind-the-scenes action that makes these sports possible.  
Since 2013, Coach Maureen McVey, Athletic Director, has been responsible for everything related to sports, MSHAA rules, and the St. Joe Athletics program; everything imaginable, she did.  However, Ms. Annie Beekman is the new superhero to assist McVey in running St. Joe Athletics.  
Ms. Beekman serves as the brand-new assistant athletic director.  She loves sports, so naturally, she loves her new job.  Even from a young age, Ms. Beekman wanted her career to be in sports.  Instead of playing video games or watching TV, she would play organized sports outside with her siblings and neighborhood friends.  
"My whole life has been sports, even in the backyard, before I was old enough to be on a team.  I'm one of eight kids, so everyone in our neighborhood would come to our house and play sports.  That's all we did all the time.  I grew up with no technology.  I don't think we even had a TV most of the time growing up," Ms. Beekman said.
Growing up, Ms. Beekman fell in love with sports as soon as she was finally old enough to play on a team.  She loved every aspect of being a part of a team: practices, training, games, the people, etc.  Her love and passion for sports translated into her playing several sports at the high school and college levels.
"When people would say they would get burned out [playing], I never understood what they were saying because it was the best part of my day," she said.
In college, she earned a degree in physical education and health.  She started teaching and coaching as soon as she graduated and hasn't stopped since.  Her most recent job was at Visitation Academy, working as an assistant soccer coach.  She is also the Missouri Athletic Club Co-Chair for The Hermann Trophy Award and MAC High School Soccer All-Star Game.  Now, her career has led her to St. Joe.  Since Ms. Beekman's mom and aunt went to St. Joe, she was already familiar with St. Joe's atmosphere.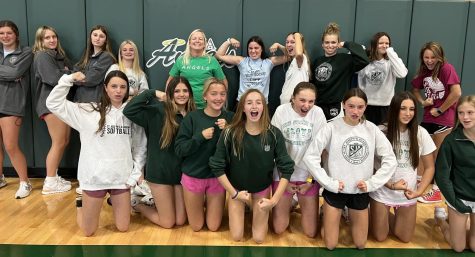 "It's always been great to compete against St. Joe because I felt like the fans have a lot of school spirit, and the players always were so competitive and working hard.  It just seemed like a great program.  I thought it would be a great fit for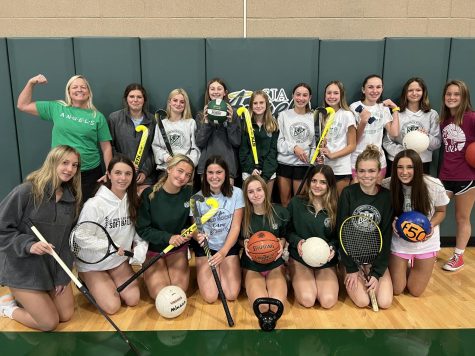 my personality," Ms. Beekman said.
Ms. Beekman is very grateful to work at St. Joe.  She loves how welcoming the atmosphere is. She notes that the students and faculty have been incredibly friendly and helpful.  Every day, she learns more about St. Joe and her job.  She hopes she can help and support the coaches and students, but the most crucial aspect of her position is to help Coach McVey, with anything she needs.  
McVey has been the athletic director at St. Joe for nine years.  She will be celebrating her 10th anniversary next fall; however, she has been serving the St. Joe community for 32 years, which is an astounding feat. 
Throughout her numerous years as the athletic director for St. Joe, McVey has accumulated a lot of knowledge and understanding that keeps St. Joe sports running.  She has shared some of her wisdom with Ms. Beekman, which has helped her to learn how to be a successful assistant athletic director.  McVey explains that the best way to be a successful athletic director is through one fundamental skill: organization.
"It's all about organization, keeping records, and just trying not to be so stressed out all the time," McVey said.
Ms. Beekman has greatly helped McVey, even in her first months at St. Joe.  She has helped with everything from booking hotel reservations and organizing paperwork to cleaning and substitute coaching.  She has helped McVey narrow down the weeks it takes to check the mountainous paperwork they go through.  They ensure that every player has updated paperwork before every sports season starts.  They must finish on time so that the players stay within MSHAA rules.
Like all professions, athletic directors have their favorite parts of their job.  For McVey, her favorite part about her job is watching all the students play, but Ms. Beekman's favorite part is teaching a section of freshman PE!
"They are just a joy and a bright spot in my day.  They make me laugh," she said.
Ms. Beekman looks forward to experiencing the new school year with everyone at St. Joe.  She is eager to learn and grow each day.