Taylor Swift's Eras Tour hits the US
Angels travel to see the artist
In a world eager for the return of in-person experiences, no other industry has experienced such a boom as live music. Concert ticket sales have been on an exponential rise since 2022, and appear to have no signs of slowing down anytime soon.
This trend is heavily emphasized by the record-setting sales of tickets to Taylor Swift's Eras Tour. It's estimated that the total revenue of the ticket sales of the tour will amount to about $591 million, making Swift the highest-grossing female artist of all time.
With the highly anticipated October 2022 drop of the album, Midnights, to the November announcement of the Eras Tour, it seems as though Taylor Swift has been in the spotlight of conversation for months.
What makes this tour unique, and what also has likely contributed to the extreme demand for tickets, is that it includes songs from all ten of Swift's studio albums. The longer-than-average setlist ends up lasting over three hours, as Swift includes a wide variety of sets and an exciting multitude of costumes.
It's no surprise at all to find that many at St. Joe have spent their blood, sweat, and tears in order to get tickets. Many who were successful in snagging tickets cannot wait to experience the nostalgia of hearing some of their favorite songs performed live again, including senior Amanda Favazza who will be attending the Kansas City venue.
"My mom and I are longtime fans and always go to Taylor concerts together, so I am so excited to experience it again! And to dress up of course." Amanda said.
Others who will be attending, like sophomore Maria Collins, are thrilled for the attention to detail that Swift has put into the design of the tour.
"Taylor Swift is a mastermind and the intricateness of her tour is the perfect showing of it. I can't wait to get to scream all of my favorite songs," Maria said.
Of the students and faculty at St. Joe, there are clear winners when it comes to which tracks are the most anticipated for. At number one, "All Too Well" (Red, 2012), was voted as the top song that St. Joe Swifties are looking forward to seeing performed again. Coming in second and third were "Enchanted" (Speak Now, 2010) and "Miss Americana & the Heartbreak Prince" (Lover, 2019).
The matter of concert attire lies in fans' discernment between their favorite album versus their preferred "era"—Swift's niche aesthetic tied to each album. At St. Joe, this distinction proved to be true. While there was a wide distribution of votes between all ten albums, most listed 2020's folklore as their number one. However, over half listed 2012 album Reputation as their favorite era of Swift's career.
Despite the many who were fortunate enough to get tickets, others were not as lucky. Victims of the infamous Eras Tour Ticketmaster scandal—in which the rapid purchase of tickets led the company to halt sales a day and caused many to be waitlisted—are struggling to cope.
Ms. Hailey Meersman of the math department feels the situation couldn't be any worse.
"As a victim of the waitlist, I have nothing to look forward to in life. It's the worst thing that's ever happened to me." Ms. Meersman said.
In fact, Swifties everywhere feel cheated out of having their chance to attend what's considered a once-in-lifetime experience. Online, communities of disappointed fans have come together via Reddit and Twitter, making light of their situation with memes and how they plan to go on.
Nevertheless, the excitement that Taylor Swift has managed to garner for the Eras Tour is undeniably impressive. Swift has created an "unforgettable" quality about her music that has left her with extreme success and consistent popularity year after year, proving it cannot simply be by coincidence. She is strategic and methodical in her marketing and releases, reinventing her brand with every album and experimenting with nearly every genre. Few artists in the industry match such a feat, as it is incredibly difficult to stay as relevant at the level Swift has managed during her sixteen-year career. Truly a mastermind of the music industry, if you will.
About the Contributor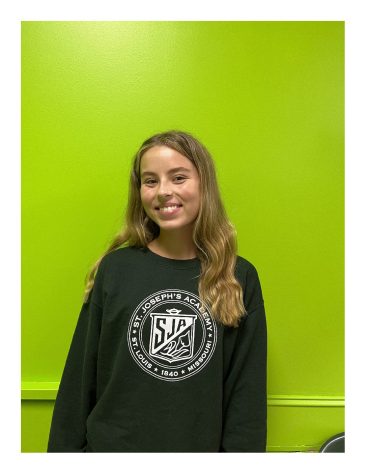 Bailey Bryan, Senior Staff Writer
Bailey Bryan is a junior at SJA. As a new senior staff writer for The Voice this year, she cannot wait to share her work! Bailey's favorite subjects...