Set Sail with the Daughter of the Pirate King: A Book Review
* This book contains fantasy, violence and some instances of very mild language.
She was sent by none other than the Pirate King of Maneria. She is instructed to retrieve one of the three missing pieces of an ancient treasure map that leads to an island only thought to be a myth in story books, filled with more riches than any pirate could ever dream of. However, her path is not so easy. To accomplish her task, she must get deliberately captured by the enemy ship, and search it for the map. As a prisoner on their ship, she begins her search in secret late every night, making sure not to blow her cover or reveal the powerful secret she's been carrying all her life. But the hunt for the map grows increasingly difficult when it is nowhere to be found and the captain's unfairly attractive first-mate, Riden, watches her every move. Suspicion arises, and her time dwindles, but that is no problem for seventeen year old Alosa Kalligan. For she is none other than the Daughter of the Pirate King.
Daughter of the Pirate King, written by Tricia Levenseller is the first book of a pirate inspired duology. A fast-paced, and adventurous story complete with a hint of enemies-to-lovers romance, perfect for a quick and captivating read. Levenseller keeps the story lively with her amusing characters and frequent dialogue, never leaving room for a dull moment.
This is evident in Levenseller's writing and specifically her main character, Alosa. She creates an exciting and just-as clever, female Jack Sparrow who takes readers on her mission. She is portrayed as a strong, intelligent woman who can also enjoy her femininity and prides herself for her almost all-female crew which is the only one in all of Maneria. Although often underestimated by the male pirates on enemy as well as friendly ships, she does not let their actions and comments deter her from her goals.
Even if this book is considered a low-fantasy book, meaning that it does not contain a lot of complex world-building and a set magic system, Math teachers Ms. Megan Howley and Mrs. Katie Morrow still enjoy this type of reading.
"Although I tend to lean more to magical fantasy when it comes to this genre, I loved the Pirate of the Caribbean movies to where I would totally say yes to this kind of book." Ms. Howley said. "I also enjoy the romance sub-plots since it is always exciting and fun to read. It keeps people interested, especially if the book is a quick and easy read."
"I like fantasy but I often favor the magical kind," Mrs. Morrow said. "However, I do prefer fast-paced books. If it is too slow and excessively descriptive I get lost."
From the engaging dialogue to exciting character dynamics and romance, Daughter of the Pirate King never ceases to keep readers intent on finding out what happens next. Like a movie, it takes readers aboard an adventure which I rate a 4 out of 5 stars. So raise the sail, hoist up the flag, and clear the deck. Join the mission and get ready to sail with the Daughter of the Pirate King.
About the Contributor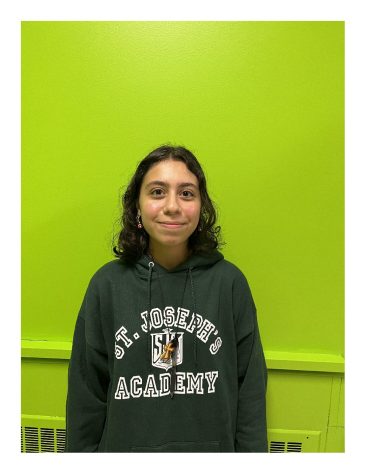 Lizzy Khater, Senior Staff Writer
Lizzy Khater is a Junior at SJA. This is her first year writing for The Voice as a Senior Staff Writer, and she is very excited! Lizzy's favorite classes...