Checking Out the New Matecki Library
Over the summer the library underwent major renovations, and this month, the St. Joe Community reopened and everyone was able to explore the new and improved space.
With the school year in high gear, having an accessible place for students to relax and decompress is vital to the success of any school; juggling sports, extracurriculars, and school life is a difficult challenge, and students like sophomore Kiran Rudd can understand that.    
"The library is a place for everyone, it's relaxing and I can always go there if I need a break in my day," Kiran said.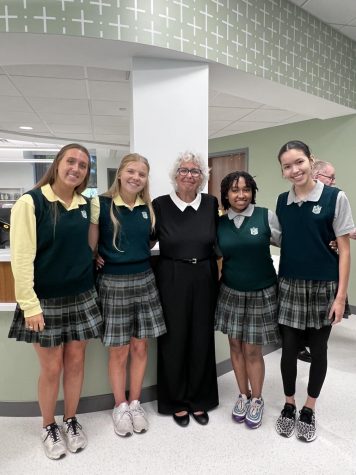 Remodeling and updating the library was done in hopes to modernize the space for students, with a design tailored to the specific needs of St. Joe. With a layout inspired by the building's original 1955 design students will have access to an additional three academic workrooms, similar the current quiet and collaboration rooms, all of which are now available for quiet work and study. Students can also take advantage of the different literature options with the addition of "Kathleen's Favorites," a section of the library devoted to books recommended by library construction sponsor Kathleen Matecki. This entire renovation was possible because of the generous donations from Mrs. Matecki '74 and her husband Paul Matecki. Having graduated from St. Joe herself, Mrs. Matecki is very active in our community, and is a passionate supporter of Catholic education. 
The Mateckis understand the importance of Catholic education and have been continual supporters of Catholic schools in the local area, including St. Joe.
 "You all deserve it, and I can't look past your needs,"  Mrs. Matecki said. 
The Mateckis are firm believers in students' ability to flourish when given the proper resources, and this renovation was meant to deliver those resources to the students of St. Joe; their kindness and support is something for which the St. Joe community is deeply grateful. 
Students were able to show their appreciation to Mr. and Mrs. Matecki during the library's ribbon cutting ceremony on October 7. The student body watched a broadcast of the ceremony from the theater and in return the student gathering was broadcast visually to the attendees outside of the library.  The students waved their hands in applause to show their appreciation during Mrs. Matecki's speech.
In her speech she reminded all Angels to study hard and remember the importance of family.  While she said that she never had children herself, she has not only many nieces and nephews (including current St. Joe students senior Maria Mueller and sophomore Carolyn Mueller), but she now has another 500 Angels as family.
"And call or text your grandparents and older relatives," she remarked to the screen where she could see the students in the theater.  "We all love hearing from you all."
Mrs. Matecki said she knows that students have a lot of work on their plates in school these days and she hopes everyone can use the space for studying, learning, and finding time to relax and just read.
She promised that she would be popping into the library on occasion to visit and see students enjoying the space. She invited anyone to introduce themselves if they see her sitting in a corner reading a book.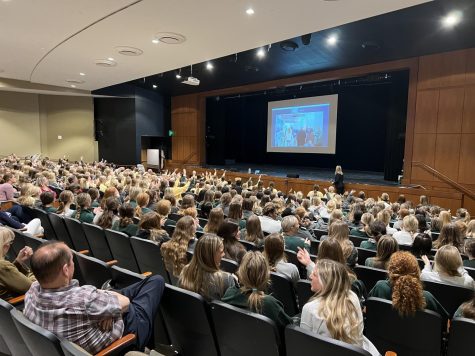 Students are very thankful for the library and the Mateckis donation, including senior Lila Summers.
"I missed having the library the beginning of this year and having to find other places to study," Lila said. "Now, it's open and better than ever!"
 Since its opening on October 10, SJA has been enjoying the resources, comfy seating, and study spaces…and well, everything the library has to offer. So while the library itself has changed, Ms. Millikan's message stays the same: "Keep reading and keep logging."