Partying it up with the Mom's
Parents are a big part of getting everyone where they are today. St. Joe loves to celebrate parents throughout the school year. In previous years there has been a Mother Daughter Brunch, Father Daughter Mass, and a Father Daughter Dance. All these events allow everyone to celebrate their parents. This year St. Joe held a new event called the Mother Daughter Dance. 
This event was held on September 30. The event was planned by Colleen Smith-Yelton and a board of students. The 13 students on the student planning commitee were Abbie Dugan, Arden Menzel, Audrey Christian, Ava Swan, Ellie Poling, Madeline McCormack, Maizey Sadlo, Rylie Harris, Shelby Winston, Gaby Fowler, Lexi Novak, Madi Hanneken, and Vivien Kozeny. They spent a month and a half perfecting this event. 
This event had multiple different activities for the mothers and daughter to do. They had a big dance floor that had people on it all night long. There was a dance circle at one point that allowed each duo to show off their moves. There was also a 360 camera that allowed everyone to let loose and show off their personalities on film. There was another photo opportunity at the fish eye camera which was a unique way of capturing the night. There were  also lots of different options for food and drink which allowed everyone to stay energized throughout the night. 
Sophomore Ellie Wenberg went to the dance and had the time of her life. She thought that it was very well planned out.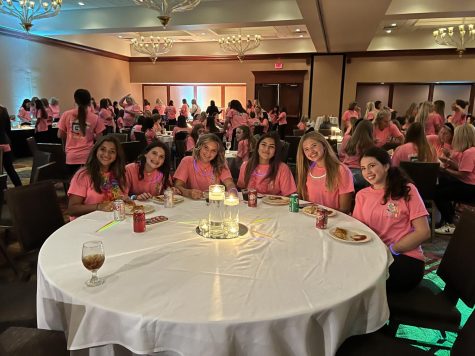 "My favorite part of the night was dancing with my mom. Mother Daughter allowed me to just have fun with my mom and have a fun girls night out," Ellie said. 
There was also a dress code at the dance. The dress code consisted of the Mother Daughter Dance t-shirt and leggings or jeans. The shirts were hot pink and very vibrant. This allowed the girls to not be stressed about what to wear since everyone wore the same thing. Junior Mackenzie Golomski was at the dance and loved being able to spend quality time with her mom and her friends.
"Spending the night with my mom was really special because I've never been to a mother daughter dance before, so it was a new experience for both me and my mom," Mackenzie said. 
The event had lots of mother daughter duos attend and spend quality time together.