Swim and Dive Takes on State
The swim team has worked very hard this past season and it definitely showed when they received 3rd place at state! Many swimmers received individual awards as well. 
Freshman Leah Renner took 7th place in the 200 freestyle, and fifth in the 100 freestyle, while sophomore Avery Smith took 18th place. Junior Alyssa Yelton received 10th place in the 50 free, junior Ellie Guenther took 12th in the 200 IM and Sarah sophomore Donohue took 6th in the 200 IM. Sophomore Emily Murawski took 17th in fly, Donohue took 5th in backstroke, and Guenther placed 15th in the 100 breaststrokes. For relays, Yelton, Smith, Renner, and freshman Cate Guenther placed 5th in the 200 free relay and Yelton, Smith, Renner, and Donohue placed 2nd in the 400 free relay.  Yelton, Ellie and Cate Guenther, and Donohue placed 8th in the 200 medley relay. As for divers, senior Sam Camfield placed 4th.
Two swimmers who competed at state were sophomore Emily Murawski, and junior Alyssa Yelton. Both were on the swim team last year and were excited to go to state this year. They both competed very well and had a blast being there with their teammates. 
Alyssa has swam many different races in the past few years. She says competing at state is always "exhilarating," but can also be "nerve-wracking" because they are up against the best of the best. But it always helps how close the swim team members are.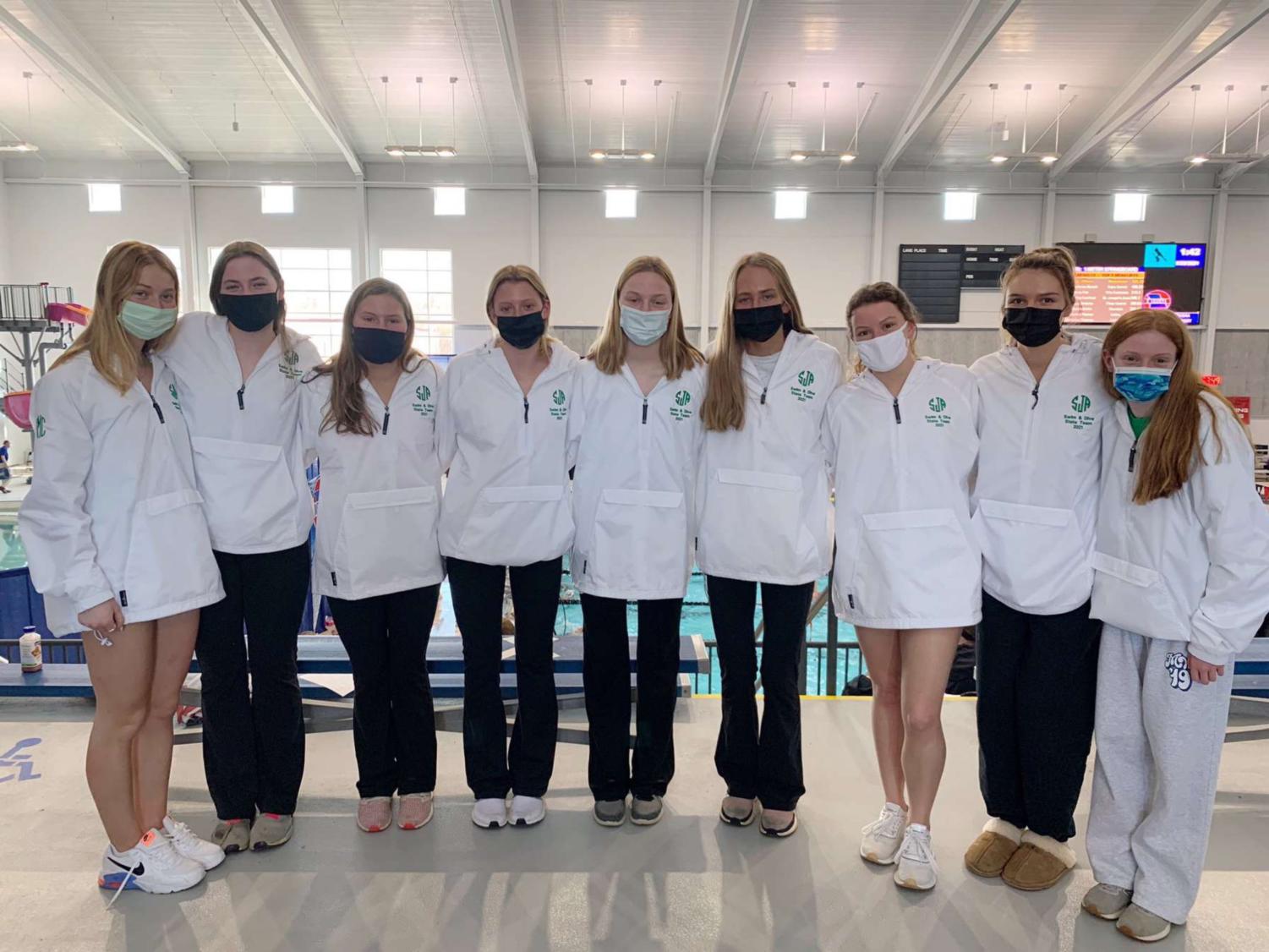 "No matter if you are best friends with a girl or you just met her because of swim, you automatically feel like you're best friends," Alyssa said. "It is the best feeling when you're doing a flip turn and one of your teammates at the end of the pool is cheering for you and yelling to catch the girl in front of you or telling you to 'finish it out, you're almost done.'"
For sophomore Emily Murawski, this was not her first time competing at state nor being on the swim team. Just like Alyssa, Emily really enjoys competing at state and she says it's because she gets to compete against many different people from all around, the best swimmers in the area. She also loves getting to cheer on her teammates, and obviously getting cheered on during her events! Since it's the last meet of the season, it's fun to be with their team and enjoy it together. 
"My favorite part of being on the St. Joe swim team is the constant uplifting environment. Every swimmer, no matter the skill level, cheers each other on; it is a very inclusive and positive team," Emily said.
All in all, the swim and dive team had a very successful season. They grew not just as better swimmers, but also as a better team. It seems that the swim and dive team is a very uplifting, supportive group, not wanting anything but the best for each other, and it shows when they compete!