Book Review: Milk and Honey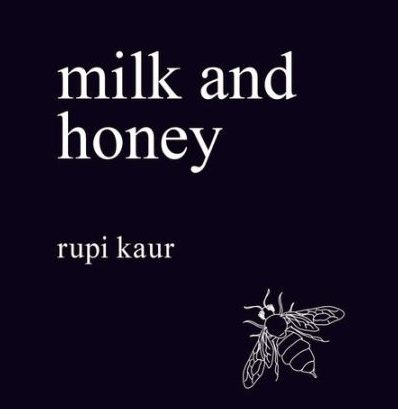 Madison Guzy, Features Editor
August 21, 2017
The book Milk and Honey by Rupi Kaur is a collection of poems with illustrations by the author herself.  Kaur takes inspiration from her life experiences to write about family, violence, love, heartbreak, abuse, and femininity.  The book is split into four parts—the hurting, the loving, the breaking, and the healing.  Kaur took time to organize the book into the order of her journey in life, and it is inspiring to see her grow despite the heart-wrenching reality.
Understanding the purpose of the book begins with understanding the author, Rupi Kaur.  She was born in Punjab, India below Kashmir—another state in India which fans of Led Zeppelin are familiar with.  Her father fled to Canada to escape genocide a month after her birth.  She moved to Montreal at age three and a half with her mother.  Rupi Kaur had to adjust to her new life in an unfamiliar place while the rest of her family stayed behind in India.  She had to learn the English language, but it took her a long time to get used to it.
When she was in high school, Rupi Kaur began writing poetry. She wanted desperately to write in Punjabi because she found the Gurmukhi Script so beautiful. In Gurmukhi Script, there are no capital letters, and the only punctuation is a period.  However, when Kaur attempted to write poetry in the Punjabi language, the words did not flow as smoothly.  The better Kaur became at speaking English, the less she spoke Punjabi.  Eventually, she chose to apply the Gurmukhi Script principles to the English language and create an incredibly unique reading experience.
Rupi Kaur combined both her past and present to write her poetry for Milk and Honey.  She always loved to read, but she struggled as a young girl because she could not relate to the books.  She writes her poetry to reach other girls like her who come from the same background.  Rupi Kaur is scheduled to write two more books; the first book, The Sun and Her Flowers, will be released in October of this year.  Pre-order it now!