Battle of the Cups
There are always new things starting to trend on the daily. As soon as something starts trending it will constantly influence more people to buy the trending items or participate in the trends. Things can be trendy from a pair of shoes to a dance on TikTok. One of the newest trends is the Stanley Cup, but does it compare to one of the other most popular water bottle brands?
The Stanley Cup was originally launched in 2016. Since then the cup has made which is what has made it popular today. The fun colors have made it appealing to many girls from ages 14-28. The Stanley Cup is also insulated and holds the temperature of the drink extremely well. Ice can sit in a Stanley cup for up to two days and hot beverages will stay warm for up to 7 hours. The cup comes in many different styles and sizes, with the most popular holding 40 ounces. One of the biggest perks of the Stanley Cup is that because of the way it is built, it is able to fit in cup holders which makes it more accessible on long car rides. 
Hydro Flask is another extremely popular brand that has many different types of cups ranging from water bottles to mugs. Hydro Flask started in 2009 and became trendy in 2019. Its most popular option is the 32 oz cup. The Hydro Flask water bottle also has several different types of lids with them either being a straw lid or a screw off lid. Although Hydro Flask hit its peak from 2019-2020 it still has managed to pass the test of time and stay popular.
There was a survey sent out to the student body about their preferences of Hydro Flasks and Stanley Cups. In total, 60 students responded and 35 students said that they use a Hyrdo Flask and 6 students use a Stanley Cup. The other 18 students use both the Hydro Flask and the Stanley Cup. Since the Hydro Flask has been trendy significantly longer than the Stanley Cup, it is understandable that a higher amount of students own one. This survey also asked if students thought that the prices are appropriate. A 32 oz. Hydro flask is $44.95  and a 40 oz. Stanley Cup is $45. Although this would make the Stanley Cup cheaper, students think that Stanley Cups are not as worth it to invest in. 
Sophomore Lilly Kilcullen has a mini Stanley Cup. She has been very pleased with the product. 
"I love the straw and how it always stays still in the cup. I also just love how it keeps my water cold for long periods of time," Lilly said.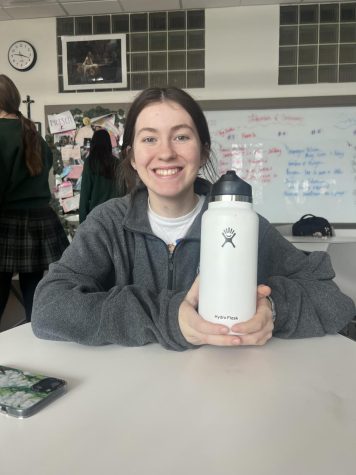 Sophomore Eliza Drayton has both the Hyrdo Flask and the Stanley Cup. She thinks that both have their pros cons.  
"I love my Hydro Flask but I had it for so long that I was in need of something new and decided I'd switch it up for the Stanley. The problem I have with the Stanley is that is leaks which is something the Hydro Flask doesn't but I think that the Stanley has a much better variety of colors," Eliza said.
Overall, these cups are both very popular and both have their perks. There are hundreds of generic brand water bottles but there is a reason that these two are the most favored and that comes down to the insulation and the colors. There is no right or wrong between these two since it all comes down to opinions.