Unravelling the Backstage of The Unravelling
St. Joe's Winter play this year was The Unravelling. This play had stories inside of stories. While actors played these stories out on stage, a wholly different group worked to help these stories play out backstage. 
Backstage workers on theater productions are generally split into two groups; technical crew which includes light board, sound board, and spotlight operators, and stage crew which includes grips, flies, and set crew. Both of these groups are under the discretion of the stage manager and technical director. 
For this show, sophomore Ainsely Hamilton worked as the stage manager. Her responsibilities in that role included writing down the blocking (positioning of the actors) in each scene, creating cue sheets for the crewmembers, and calling cues during the show for members of the tech crew.
"It was great to get to see a show come together with the tech, cast, and set over time, and working with such an enthusiastic cast and crew made it all a lot more fun," Ainsley said.    
The technical crew for this production, while being led by stage manager Ainsley, was also operating under the direction of senior Kate Theerman Rodriguez. Kate has worked on the crew for many shows at St. Joe including Beauty and the Beat and Legally Blonde. Even with her previous experience, Kate appreciated working on this production. 
"Operating the light board was cool because I had control over the mood shifts of the production. I enjoyed seeing how the audience reacted to the mood shifts performance-wise and visually. Overall, The Unravelling was one of the most creative shows we've had in terms of lighting, especially considering how bare-bones the set was," Kate said.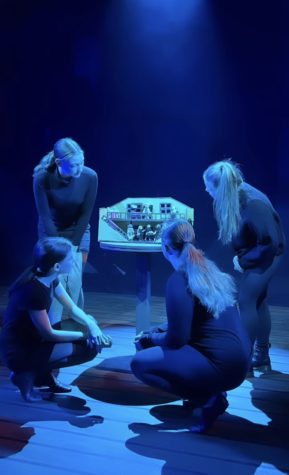 While the actors worked hard for months memorizing lines and practicing their blocking, students like Kate and Ainsley spent their time learning scene shifts, practicing cues, and programming lights. 
During shows, crewmembers are connected through their communication system which is colloquially called "coms." Being on coms allows Ainsley to give direction to her tech crew and stage crew, sound operators to communicate with people backstage to fix microphone problems, and stage crew to check spots during scene shifts. 
Theatrical productions at St. Joe rely on talented students to put themselves out there on stage, and they rely just as much on the hard-working students behind the curtains. The Unraveling came together so cohesively thanks to the dedication and work of its actors, director, and especially, its crew.