Kick-Starting Your Own Indoor Soccer League
Many teens have decided to join an indoor soccer league at Vetta Sports this winter.  Instead of playing to compete, these teams compete to have fun.  Teens enjoy getting together with friends to participate in friendly competitions with other like-minded teens.  And you don't even need to be good at soccer to participate!
Participating in a recreational soccer league appeals to some because it provides a fun. It also has some perks.  For one, it is an excellent source of exercise.  Not a fan of the gym?  Playing in an indoor soccer league might motivate some to move their bodies more, which improves brain health and strengthens bones and muscles.  
Moreover, these soccer leagues supply an opportunity to bond as a team. Achieving a common goal can work toward lasting friendships.   
Sophomore Audrey Callen has recently joined a Vetta Sports league.  
"I've loved being apart of a Vetta soccer team because it allowed me to create new friendships and meet people from different schools," she said.
Additionally, playing for an indoor soccer league is easier than it may seem.  Firstly, you need to create a team.  Find friends, teammates, and classmates that want to join!  To create a high school soccer league at Vetta Sports, you need at least six players on the court at all times and a coach.  Girl, boy, and coed teams are available for registration.
Once a team is assembled, visit Vetta Sport's website.  By selecting "high school" under the "soccer" tab, you can register the team.  Some information needed includes the preferred location, the coach's contact information, the grade level of players, and the team name.  Specific information like number of JV/varsity players can help Vetta Sports choose which teams play one another.  Every team has its own needs and competitive level.  Don't worry!  There is competition for everyone, no matter the level of expertise. 
Lastly, teams can create their own jerseys.  This can make the team stand out in a unique way.  Custom jerseys can be relatively inexpensive depending on which site is used.  Some company examples include Custom Ink, Owayo, Soccer.com, Vista Print, and many more.  Choosing a cohesive jersey for a team can make your team look and feel more professional.
Sophomore Maddy Schlautman joined the trend and created an indoor soccer team through Vetta Sports.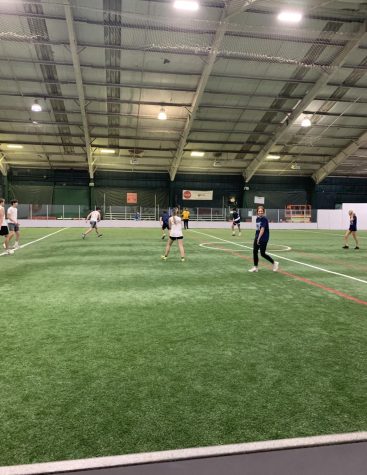 "My friends and I have been wanting to do an indoor soccer league for months.  Vetta made it super easy to put together and organize a team.  All we had to do was accept an invite and pay," she said.
Their soccer team, called the Blue Angels, had its first game recently.  
Sophomore Kate Burns is the team's goalie.
"I get to have fun with my friends while playing the sport I love," she said.
Once registered to become a soccer team, the fun begins!  Team coaches can start creating plays and choosing positions for each player.  Remember, players can be of any level.  Just bring a pair of tennis shoes or indoor soccer shoes, a waterbottle, and a good attitude.  All in all, most teams are in it for the fun.  Although, each team brings about its own competitive spirit.  Good luck and let the games begin!