Oh the Places to Go in St. Louis!
St. Louis is home to many fun and exciting attractions which can fill your day. While you might have lived in St. Louis most of your life, there might be some interesting places you have not visited yet. There are various offerings such as family friendly places, fun hangouts for you and your friends, places that provide up close views of the arts, historical landmarks, and places that have a wide variety of things to do. These are places that you, family, and friends can enjoy what St. Louis has to offer and find some new and fun things to do around St Louis. 
St. Louis has many family-friendly options. For example, St. Louis' museums are great  places where you can learn about numerous different subjects and have an amazing time. One place to learn more about our city's history is the Missouri History Museum in Forest Park. The Missouri History Museum is a great place to learn about the history of our great city. St. Louis is known for many things, especially its amazing baseball team, The Cardinals. From an informal Google survey, only about 36 percent of students and staff said they have visited the St. Louis Cardinals Hall of Fame and Museum. If you are looking to learn more about the team and their vast achievements you can visit the facility in Ballpark Village. 
Freshman Julia McDaniels suggests trying the City Museum, as it was a favorite place for her to visit as a child.
"I really like the City Museum. I think it is a very fun place… …they have a gift shop there, a restaurant," Julia said.
In the winter months, Steinberg Skating Rink, in Forest Park, has proven to be a huge hangout spot for high school students. The outdoor rink is also home to a Snowflake Cafe, a great place to grab a bite after iceskating with friends. There are also several area malls to hang out, shop with friends, and people watch including: West County Center, St. Louis Galleria, Plaza Frontenac, South County Center, Loughborough Commons, Kendrick Plaza, and Gravois Plaza. 
In the warmer months, Six Flags is a great attraction. Freshman Izzy Stadnyk loves to hang out with her friends at Six Flags, which is home to many rides, some of which have been around for 20+ years.
"I think my favorite place is Six Flags because I love the rides, and it is a really fun place to go with your friends and hang out," Izzy said.
St. Louis is also home to many art exhibits. St. Louis has many art museums including the St. Louis Art Museum that is home to many different art exhibits. St. Louis is also home to many wonderful theaters. The Fox Theater has various musicals and plays year round. For an evening immersed in the fine arts the Fox Theater is an amazing place to visit. In the summer, Forest Park has a beautiful outdoor theater, the Muny, that puts on a handful of shows each summer for a nice, hot evening outdoors. 
Freshman Taylor Gilbert puts it on her must-visit places in St. Louis.
"My favorite place to visit is the Muny because it has such a great environment. They put on amazing shows, and it is our own little bit of Broadway here in St. Louis," Taylor said.
St. Louis is also home to many historical landmarks. These include the St. Louis Gateway Arch which is one of St. Louis's most famous attractions. When visiting the arch, you can learn more about the city's history and its significance while enjoying an amazing view of downtown St. Louis and the Mississippi River. 
Two other landmarks that hold so much beauty and faith are the Old Cathedral and the Cathedral Basilica. Both are filled with many gorgeous paintings and mosques, and both hold delightful services especially during celebratory times in the liturgical year. Busch Stadium, not too far away from the Gateway Arch, is an amazing place to spend an evening watching the St. Louis Cardinals. You can also visit the Enterprise Center which houses many of the Blues games as well as a great number of other events.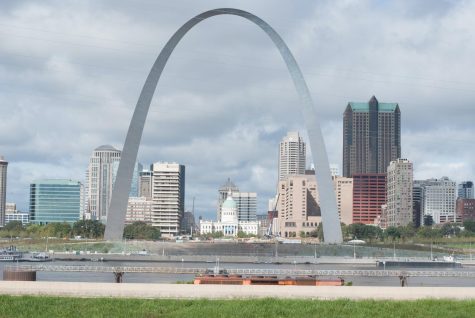 "They are very historic, and they are very good teams. The Cardinals have been around for like 120 years," Taylor said.
And that's not all! Union Station in downtown St. Louis is home to St. Louis Aquarium, St. Louis Ferris Wheel, Carousel, Mini Golf, Mirror Maze, Ropes Course, Soda Fountain, Union Station Cookies and Cupcakes. All of these activities are family-oriented and fun with friends, too. There is also the Saint Louis Science Center and James S. McDonnell Planetarium, Shakespeare Festival St. Louis, and Saint Louis Zoo. 
Freshman Grace Feise named the Saint Louis Zoo as one of her must visit places in St. Louis as well as favorite place to go as a child. She also noted an innumerable amount of dining options; the Boathouse Restaurant, Forest Perk Cafe in the Visitor's Center, Keagan's Restaurant at the Highlands, Snowflake Cafe at Steinberg Skating Rink, and more.
St. Louis is home to many fun and diverse attractions and activities. Whether you're hosting friends out of town, or just want to spend a weekend exploring the city, St. Louis has something for everyone to create lasting memories with the people you love.