Jamming into 2023
Almost 80 million songs were written and released in 2022. Many of those became favorites to our students.  An informal survey was asked of Angels to determine the favorite songs of 2022. 
According to Billboard magazine, the top song of 2022 was Bad Habit by 24-year-old artist, Steve Lacy. This song grew its popularity through the social media app TikTok and was streamed more than 600 millions times on Spotify. The Angels approve the song as the most popular with 33.3 percent of the students who participated in the survey. Coming in second was As It Was by Harry Styles. This song was in a close race for first, but placed in second with 32.2 percent voting for best song. This 29-year-old artist was once in the band called One Direction which is still loved by the Angels today. 
When asked what her favorite song of the year was, Junior Lily Newsham declared "Anything Harry Styles or One Direction." 
Similarly, Styles received 21.1% of the Angels' votes for favorite artist. He has an impact on others with his statements in clothing and bubbly personality all projected by his charming accent. 
Coming in third place, Anti-Hero by Taylor Swift which was released in October 2022. Meaning this song only had about three months to reach the top of the boards with 59.7 million streams. Swift released a new album along with Anti-Hero that broke the internet. With the release of the album she announced her world tour which shutdown the ticket websites. This broke many hearts but shows the true love fans have for Swift.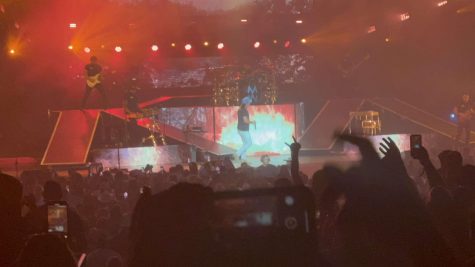 While 28.9 percent of students ranked Anti-Hero as their favorite song ranking third favorite, Taylor Swift won as the Academy's favorite artist with 33.3 percent of votes. Swifties ruled the campus proudly during 2022. 
Morgan Wallen came in third place for the Angels' favorite artist with 17.8 percent of the votes. The country singer is 29 years old has has four released albums and 72 songs. He performed locally at the Hollywood Casino Amphitheater where he won the hearts of St. Louis, traveling to the lawn for a few songs and running through the crowd. 
Senior Grace Moresi loves Morgan Wallen. 
"My favorite song is One Thing at a Time by Morgan Wallen," Grace said.
Wallen released the dates for his upcoming tour where fans flew to the ticket websites selling out all of the preorder tickets for the St. Louis show. 
Overall, this year was successful with music where artists showed their true colors and emotions. Excitement rumbles for the new year for what these talented artists are holding in their back pockets.