"An Evening With the Angels" Raises More than $1 million
On the evening of Saturday, February 25, St. Joseph's Academy parents, alumnae, and friends gathered together at the 2023 Evening with the Angels Auction. By the end of the night, the Angels had raised more than $1 million. 
Prior to the auction night, St. Joe had received an astounding $226,500 in sponsorships and $109,525 from the student raffle that began in December. This was just the start of a night of incredible generosity and fundraising. 
On the 25th, St. Joe hosted 600 attendees at its sold-out event and graciously accepted the help of 225 student volunteers. The volunteers worked as dinner servers, distributed silent auction items, sold raffle tickets, and served as live auction assistants. Sophomore Carolyn Mueller helped to sell raffle tickets throughout the evening. 
"This was my second year working at the auction. I have helped sell raffle tickets both years that I have volunteered because I enjoy meeting and speaking with all of the alums," Carolyn said. 
During the live auction, the administration asked attendees to donate to a specific cause- the Fund-a-Need campaign. This campaign funds the scholarships awarded to St. Joseph's Academy students and provides opportunities for girls who might otherwise be financially unable to attend the school. Through the generosity of many attendees, the campaign raised $443,149. These donations will provide countless opportunities for future St. Joseph's Academy students. 
Monica Elpers and her husband, were one of many donors to the cause.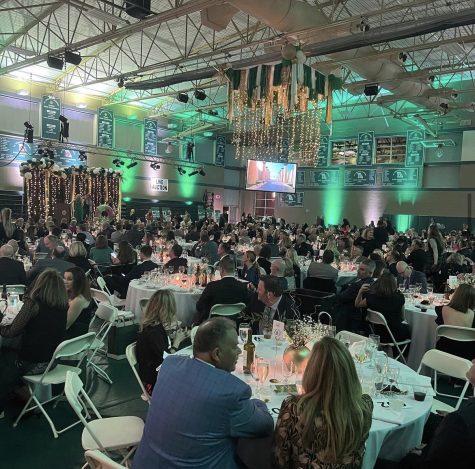 "The fund-a-need campaign this year was a cause that is near and dear to my heart. I want every young woman to have access to the opportunities and high-level education my daughter is experiencing," Monica said. 
All in all, it is safe to say that the 2023 St. Joseph's Academy Auction was a spectacular success. A sold-out event that raised the most money in school history will greatly benefit the St. Joe Angels for years to come.