St. Joe Celebrates Strong Women of Color
February is one of the most important months of the year, as it serves as a cultural celebration for one of America's many minorities: Black History Month. Cultural appreciation is extremely important, and—although we appreciate them every day of the year—we would like to take this opportunity to shine a spotlight on some of the strong black women in the St. Joe community.
First of all, one of St. Joe's favorite teachers is Ms. Carrie Hill. Ms. Hill is highly respected and admired, and this year will be her third year at St. Joe. Known for her creativity and her vibrant spirit, Ms. Hill was awarded the highly coveted "Teacher of the Month" award earlier this school year. She teaches computer science to freshmen, a class during where freshmen learn how to properly and responsibly use their computers.
Born in Kansas City, Mo, Ms. Hill moved to St. Louis when she was just a baby. She attended elementary school at North County Christian School in Florissant, and she attended high school at Duchesne in St. Charles. She then moved back to Kansas City to attend college at MidAmerica Nazarene University. Growing up, her elementary school experience was very diverse. However, upon her entry into high school, Ms. Hill experienced quite the culture shock. She left a very accepting community that had a large understanding of black culture to become a minority in a predominantly white high school. While this may have made Ms. Hill uncomfortable at first, she grew to mind it less because she loves to share her culture with others.
"I tried to use it as a good thing. Even though I was not always called the best things, I didn't let that determine how I was going to be viewed or how I was going to be myself," Ms. Hill said.
Before working at St. Joe, Ms. Hill was an English teacher for four years. She has worked in banking, preschool education, retail, and has been a nanny. While Ms. Hill has dabbled in a little bit of everything, all of her jobs have allowed her to work in a position where she was able to teach or train other people. She has felt called to be a teacher ever since she was five years old. With encouragement from all of her friends and family, she has successfully achieved that dream.
Ms. Hill has always believed in the importance of diversity and representation, but it did not truly strike a chord with her until she gave birth to her daughter, Eleanor. 
"I was like 'She's gonna need to see that she can do what she wants to do and be successful,'" Ms. Hill said. "It pushed me to really want to empower other black women…to know that you can do whatever you want to do as long as you put the work in and you find those opportunities where you can grow and you can develop."
After having Eleanor, Ms. Hill was encouraged by a coworker to attend graduate school to earn her degree in educational technology. While it saddened Ms. Hill to leave Eleanor at home with her parents, it has allowed her to become successful in a field that is currently lacking diversity. She is now able to show her daughter that it is possible to be whatever you want to be as long as you put your mind to it. 
Another very important and well-loved member of the St. Joe faculty is Dr. Julia Wilkins Kohrmann. Dr. Wilkins Kohrmann is the Director of Diversity, Culture, and Climate, and this year is her second year at St. Joe. As the Director of Diversity, Dr. Wilkins Kohrmann has a lot of responsibilities. She works to allocate funding for different projects and programs, as well as helping St. Joe to maintain a diverse and inclusive curriculum. She also works with individual students, faculty members, and partners in the community. Dr. Wilkins Kohrmann enjoys her job because it allows her to do a wide variety of things while also building connections with students and faculty members.
Dr. Wilkins Kohrmann grew up in University City. Her parents originally moved there because it had a large population of interracial families. She attended elementary school at an affluent private school before transferring to public school for two years due to some racial tensions. She then finished her elementary school education at Christ the King School. Dr. Wilkins Kohrmann is a proud alum of Nerinx Hall, where she attended high school. She then went on to receive her bachelor's degree from Boston University, before travelling abroad to receive her masters degree. When she returned to St. Louis, Dr. Wilkins Kohrmann received her doctorate degree from the University of Missouri–St. Louis.
Before working at St. Joe, Dr. Wilkins Kohrmann worked at different international schools. She taught at a boarding school in the Italian part of Switzerland and an American school in Honduras. She came to the decision to work abroad after spending her student-teaching job during college in Paddington, an area in Central London, England. While teaching in Paddington, a majority of Dr. Wilkins Korhmann's students were refugees, and she felt inspired to do more international work. After teaching at international schools, she taught at an independent school before coming to St. Joe.
Although she was not initially interested in working in Diversity, many people suggested that she apply for a position as the Director of Diversity at St. Joe. She believes that diversity and representation are important factors to include in the educational experience because teaching a person about diversity also teaches that person how to function in an extremely diverse world.
"I think we're doing a disservice to young people if we say that we're a college prep school or that we're preparing them for the world if we are not really preparing them to work with diverse groups of people," Dr. Wilkins Kohrmann said.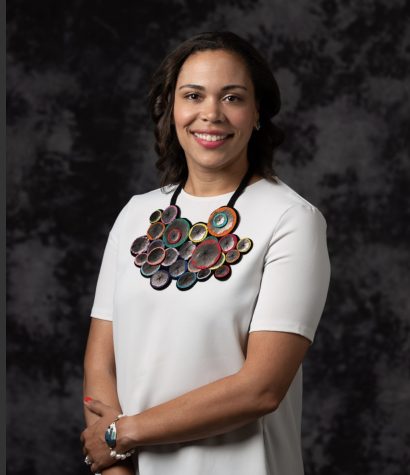 To her, diversity can mean a lot of different things. Whether it concerns working with a person from a different cultural background, religious belief system, or socioeconomic background, Dr. Wilkins Kohrmann considers it important to teach all people how to function in a very diversified environment . She also believes that it is very important to empower young women of color. Many institutions have been founded in St. Louis for the purpose of preparing and empowering young women to enter society, and Dr. Wilkins Kohrmann believes that women of color should be empowered for that same purpose.
"I think in many ways, we should empower young women of color for some of the same reasons in which these institutions were founded," Dr. Wilkins Kohrmann said. "We need to learn how to advocate for ourselves in different situations. We need to be able to seek out places to work that are welcoming and supportive and equal and fair." 
Dr. Wilkins Kohrmann has used her job at St. Joe to empower young women of color. She creates a space where ethnically diverse students are able to feel comfortable being themselves, as well as a space where they can learn how to advocate for themselves and become independent. 
St. Joe sincerely appreciates all of the work that Ms. Hill and Dr. Wilkins Kohrmann have put forth to create an accepting environment for all students at St. Joe.