SJA Reveals their Favorite Classes
As the second semester commences, preparation for the next school year has already begun. Each class held meetings for class registration. Many students are unsure of the classes they should sign up for. Asking students who have already taken classes that you are interested in is one easy way to help decide your classes for next year. 
In order to graduate SJA, certain classes and credits are necessary to complete, but there are also many electives that are unique to each student based on their interests. Each department has various classes that are available to the students depending on the prerequisites that students have previously taken. Categories like business, fine arts, computer science, and more are all open for anyone to learn more about. 
When students decide their favorite classes, multiple aspects are taken into account. For instance, the curriculum of the class, the way it is taught, and the teacher all weigh in on this decision. For Junior Annie Malloy, she had positive experiences in all three of the previous factors in Digital Photography I. 
"It was so interesting learning how to use a real camera! I loved putting my own creativity into each project and feeling proud of the beauty I captured through the camera. I plan on taking Digital Photography II next year," Annie said. 
 In this course, students learn about the composition of photos, ways to edit with software, and how to control a digital camera. An advanced version of this class builds off these ideas for those who hope to further develop this skill. It can be taken for a Computer Science or Fine Art credit.
For some, learning a new language is the most exciting resource at SJA. Sophomore Carlye Bennett loves learning new words everyday in her Spanish II class. 
"I always feel I leave Spanish II with more knowledge about the language and the culture of Spanish-speaking countries. Senora Auberry teaches us through fun activities which makes me look forward to the class everyday," Carlye said. 
Spanish II is a continuation of Spanish I, and prepares students for the next level of this class, Spanish III, although Spanish II is the highest required language class. The primary focus is communication. 
Many students prefer different subjects; sophomore Anna Reese enjoys math and is currently taking Geometry with Ms. Howley. 
"I love learning about different shapes which is predominantly what we learn in this class. One of my favorite lessons we have done is proofs where I learned how to prove certain laws in Geometry," Anna said. 
This class has a regular and honors option, which incoming freshmen can test into. 
Being active throughout the day is imperative, and sophomore Janie Jackson takes advantage of the Lifetime Sports class to exercise during the school day. 
"Playing sports is my favorite extracurricular activity, and it is such a nice break from taking notes like in other classes. I also love becoming closer with upperclassmen and bonding with them throughout our games," Janie said.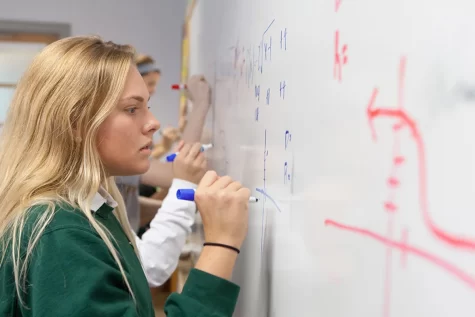 This specific PE credit is focused on activities that these students can do throughout their entire life. These include tennis, volleyball, golf, power walking, and weight training. 
There is a large variety of enjoyable classes for SJA students to choose from throughout their four years, and the previous classes are just a few that SJA enjoyed.