"Unraveling" St. Joe's Winter Production
St. Joe is overflowing with talented students. From sports to academics, St. Joe girls have always found ways to shine and express themselves through their work. One of the greatest forms of self expression is theatre. St. Joe has an incredible theatre program, and it has grown tremendously throughout the years. 
Each year, St. Joe performs three shows: a musical, a play, and a broadway review. In the fall, the incredible, high-energy musical, Legally Blonde Jr., was put on by an extremely talented cast and crew. Now St. Joe is in the process of piecing together the winter play: The Unraveling.
Set in a contemporary time period, The Unraveling is the story of a single mother attempting to keep her small fabric shop functioning while also raising her three dissonant daughters. While working to keep her own life afloat, the mother also enjoys telling the stories of others' lives to the customers in her fabric shop. She regales them with beguiling tales of enchanting magic and intriguing people to keep them pouring into her store. However, when she receives the news that she is dying of a terminal illness, she prepares her daughters for life without her by having them weave her the tales of their inner selves.
St. Joe's production of The Unraveling will star senior Mikayla Plunkett as the mother, senior Caitlyn Avery as the eldest daughter, sophomore Kathryn Portman as the middlest daughter, and freshman Izzy Stadnyk as the youngest daughter. In addition, freshman Sydney Moore will be portraying the seamstress, and the four narrators will be played by freshman Maya Zimmerman, freshman Ava Swan, sophomore Jenna Akins, and sophomore Colleen McAuliffe.
The Unraveling, as well as many of St. Joe's finest productions, is directed by the Director of Performing Arts Mrs. Janine Albes. Mrs. Albes teaches Acting I, II, and III, and she has directed 11 St. Joe productions. Mrs. Albes enjoys this show because of its poetic nature and unique visionary style. 
" It feels as though the characters themselves aren't necessarily real people, but that they represent ideas, and I find that fascinating to work through and work with," Mrs. Albes said.
She also considers this show to be completely different from any other St. Joe production. 
"I don't think it's similar to any of the shows that I've done here, and that's why I was drawn to it," Mrs. Albes said. "It will make the audience think about their relationships with family and friends, their desire to maybe build those relationships, and to think about their impact in the world as a person."
The cast is also excited to work on the show. This will be Kathryn Portman's third St. Joe production. She enjoys this show because of its unique utilization of the narrators.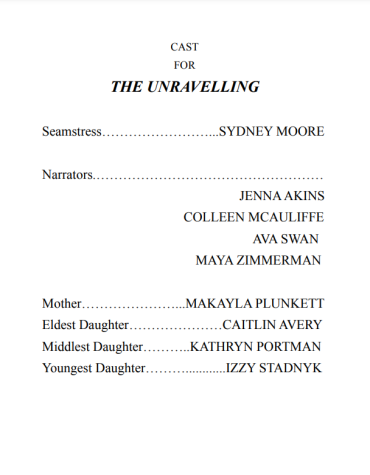 "My favorite part about it is the involvement of the narrators. I've never seen a show that is driven by the narrators as much as this one," Kathryn said.
This will be her first time performing a black box production. Black box theatre is a concept dating back to the early 20th century. In a black box theatre, the audience is seated directly on the stage, and the actors perform in the center. It is very intimate, and it allows the audience to connect with the show on a more personal level. St. Joe has performed excellent black box productions in the past, such as The Miracle Worker, and this one will likely be no different.
Over all, The Unraveling is shaping up to be an incredible show, distinguished by its original characters and unparalleled plot. This show will be held at St. Joe's theater Feb. 9-11.  Make sure not to miss it!