Celebrating Martin Luther King Jr. Day
Martin Luther King Jr. Day is often looked forward to as merely a day off from work, school, and responsibilities. However, St. Joe finds it important to remember the true meaning behind the holiday and why it is important to be celebrated. 
Martin Luther King Jr. was a prominent American civil rights activist who lived from 1929 to 1968. He is most remembered for his "I Have a Dream" speech at the March on Washington for Jobs and Freedom on August 28, 1963. He also advocated for non-violent protests, becoming the youngest man to be awarded with the Nobel Peace Prize. Dr. King was assassinated in 1968.
That year, only shortly after Martin Luther King passed, a petition was started to have his birthday become a holiday to honor him. An official bill was introduced to the courts and it became endorsed in 1976. Many people were in support, including musician Stevie Wonder who wrote a single titled "Happy Brthday" and the petition to make the day a legal holiday gained 6 million signatures. The bill finally passed as a law in 1983, but the first "King Day" was not celebrated until 1986. Additionally, the holiday was not officially recognized in all states until the year 2000. 
Freshman Paige Dolan was shocked when she learned this information.
"It feels so normal to me because it's been around my whole life, but 2000 wasn't that long ago. It's crazy to think that my parents didn't even have the holiday until recently," Paige said. 
MLK Day is observed on the third Monday of every January. This year, that day fell on Monday, January 16. Because this is a state public holiday, state government offices are all closed. Many businesses and schools also close, including St. Joe, while others stay open and teach about the impact of Martin Luther King Jr. on civil rights and racial segregation. While this is a federal holiday, the name of the day is actually slightly different in some states across America.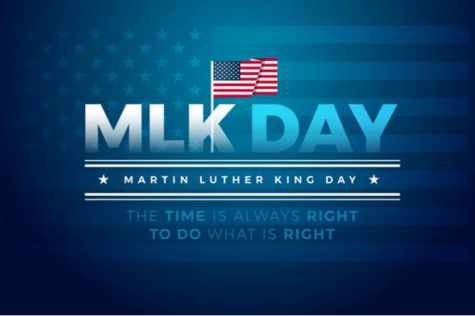 Senior Camdyn Closson approves of St. Joe's method of celebrating the holiday.
"I think it's good that schools teach about MLK on the holiday, but I like that St. Joe teaches about the civil rights movement more than just that one day and gives students that time to truly celebrate and relax," Camdyn said.
Martin Luther King Jr. Day, King Day, or however one chooses to refer to it is an important acknowledgement of our history. It reminds us how far we have come thanks to people like King along with how much more work is to be done to continue what they started.