Unfolding the Mysteries of The Final Gambit by Jennifer Lynn Barnes: A Book Review
To begin, this book review will contain spoilers to the first and second books of this trilogy, The Inheritance Games. 
Towards the end of the Hawthorne Legacy, which is the second book of the trilogy, Avery has come a step closer to discovering the reason she was chosen to inherit billionaire Tobias Hawthorne's fortune. After uncovering the secrets surrounding Toby Hawthorne's presumed death and her own family history, she realizes that the full story is far from over. 
It was finally time to play her own game of riddles and puzzles left to her by Mr. Tobias Hawthorne. However, as the story unfolds, buried knowledge is uncovered, and an unknown threat endangers Avery and her loved ones. It is now up to her to solve both mysteries, and watch as they begin to intertwine. 
The Final Gambit by Jennifer Lynn Barnes is the final book in the Inheritance Games trilogy. As this mysterious series progresses to its strategic and thrilling end, readers begin to see the intricate outcomes of each of her characters' developments as they grow older. Some friendships flourish while others begin, and readers get to witness the longed outcome of a love triangle. 
This final book unites the focal points of the two previous ones, unfolding the mysteries of the Hawthorne family tree with the desired return of the clues. It rounds out all the themes and plots described throughout the trilogy, giving readers a satisfying, happy ending.
Along with adventurous magical fantasy books, math teacher Mrs. Katie Morrow showed a great interest in this trilogy, and enjoys reading mysteries. 
"I like them because you often can't figure out what's coming up next." Mrs. Morrow said. 
Math teacher Ms. Megan Howley hasn't read the series, but expressed that the description of puzzles and riddles intertwined in the clues sounded intriguing.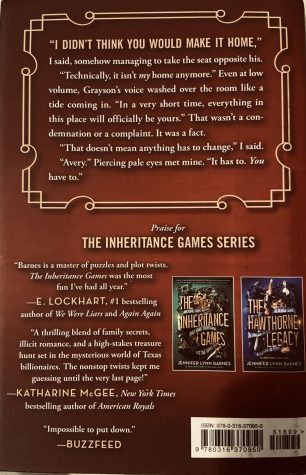 "I do like mysteries, and I am a big puzzle person. I think with my 'math brain' and I enjoy reading books where I get to try and figure it out on my own before the main character finds out. Although, I would really appreciate the fact that you don't know things before the main character does." Ms. Howley said. 
As someone who usually sticks to the genre of fantasy, and has not experienced many mysteries prior to this series, I found it to be a very fast and light read. This made it a great option for getting oneself out of a persistent reading block, and back to a regular reading routine. With short chapters that leave you wanting more, I consider The Inheritance Games trilogy a wonderful and cozy way to spend free time. I am also happy to say that although this trilogy is complete, Jennifer Lynn Barnes will be releasing more books related to these three books. Featuring the readers' beloved characters and furthermore exploring the Hawthorne world, the author has hinted to The Brothers Hawthorne and The Grandest Game in recent social media posts. It is for those reasons and more that I give the trilogy a 4 out of 5 star rating.