'Expect Amazing' at the 2022 World Cup
Every four years, the soccer community lights up as the World Cup begins. The best 32 professional men's soccer teams fought for their spot to play in Qatar this year. These teams were split up into eight groups where the top two teams made it out and began the elimination rounds. These matches started on November 20 and ended December 18 with the championship match. 
In this World Cup, many things standout from previous years. It was the first World Cup to be held in an Arab and Muslim country. It also had incredible technology that was used for rule enforcement like off-sides and penalties. This helped determine the accuracy of many calls to assure players thatthe games were fair. Also, this was the first year the hosting country lost its opening match. Qatar lost 2-0 to the Netherlands. Every hosting country is given an automatic bid to the World Cup, but Qatar did not win a single game and was quickly eliminated in their group. 
Many other teams excelled at this year's !orld Cup, and several lower ranked teams defeated nations that were extremely favored. Saudi Arabia won their first game against Argentina, led by the talented leader, Messi. Many of these types of games made for an interesting World Cup. 
The City of St. Louis has two homegrown athletes on the World Cup team for the US. 22 year old Josh Seargant played as striker for all three group games against Iran, Wales, and England, but due to an ankle injury, he missed the last game where the US lost to the Netherlands. Defender Tim Ream also played in his first World Cup game, but he is the oldest on the team at 35 years old. He played every minute of every game. These two very different styled players successfully represented the city on the worldwide stage. 
For many students at St. Joe, they have enjoyed streaming these games during school. Sophomore Molly Combs loved cheering on the US against Iran during her free period. 
"I am a huge soccer fan, so the World Cup is one of my favorite tournaments to watch. All the teams are so talented, so every game I watched [was] so entertaining. I enjoy[ed] the school day so much more when I can cheer on my team," Combs said. 
One controversial part of this World Cup is the stadium. Thousands of workers died building these state-of-the-art buildings. Many were treated horribly, and it has been referred to as modern slavery. It repelled people from watching the matches because they refused to support this cause. One of the major sponsors' products also aren't being sold. As many know, it is illegal to drink in public in Qatar, so even fans from other countries are restricted from drinking at the stadiums this year. Budwieser has lost a large amount of money since their drinks will not be sold during this event. 
Many standout soccer players announced the 2022 World Cup would be their last one. These players include: Messi of Argentina, Ronaldo of Portugal, Luka Modric of Croatia, Luis Suarez of Uruguay, and more. For many, their main reason to watch the World Cup this year was to witness these idols play for the last time on this international stage.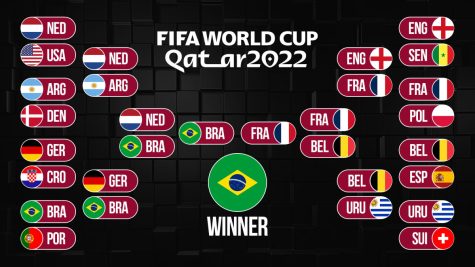 Sophomore Caroline Stephens explained her sadness that it was their last tournament. 
"I remember watching some of these players for my whole life, I feel, and I want to keep watching them. I love seeing their accomplishments and wish they would never stop playing, but I understand their reasoning. I just hope one of them wins!" Stephens said. 
The World Cup has helped many remember their love of soccer. This event brings the world together in a positive way through a sport that everyone can enjoy.