Reading Today Tonight Tomorrow: A Book Review
On the last day of senior year, Rowan Roth and Neil McClair's four year long rivalry finally comes to an end. After batting over student elections, test scores, and grade point averages, being named valedictorian would be Rowan's ultimate victory. So when Neil is announced as valedictorian, Rowan knows her last chance at beating Neil is Howl. Howl is a school organized scavenger hunt all across the two's hometown of Seattle, but when Rowan overhears their classmates plan to team up against her and Neil the two have no choice but to work together. On the last day of school they realize maybe they were meant to be all along.
Today Tonight Tomorrow by Rachel Lynn Solomon, is a young adult romcom made as tribute to Solomon's hometown of Seattle. Through Howl, Solomon showcases real life businesses and attractions in the northwest city. She did this to showcase the uniqueness and beauty of Seattle to the world. The entire story takes place over the course of 24 hours, this short timeline makes for a fast-paced and engaging story, great for new and old readers alike. Solomon's characters Rowan and Neil are well-written and depict real emotions of some seniors by showing the conflict of excitement and sadness in graduating. This book is a farewell to high school and is a great end of the year read. 
This novel was Solomon's first young adult novel and a lot of her own experience went into it, creating characters that reflect her own interest and insecurities.
 "I put so much of myself into both of them, and Rowan in particular has so many of my insecurities and I really loved writing to Neil, because I wanted him to be this very awkward, nerdy boy with hidden layers of sweetness," Solomon said in an interview with Not Just Fiction.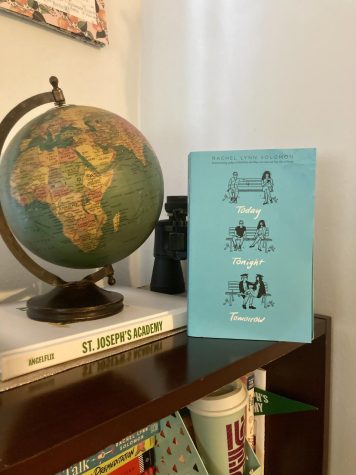 This book was a lighthearted and uplifting read that I thoroughly enjoyed, it made reading the 400 pages easy and engaging till the very end. 
Sophomore Alexandra Faerber has always been an avid reader. Although she hasn't read the book, she read the description and was intrigued.
"It sounds really really cute and sweet, and still holds some elements of mystery/thriller type stuff. Kind of like the Hunger Games but way less violent," Alexandra said. 
Reading this book was enjoyable and relaxing and made me want to keep reading till the very end which is why I rate it a perfect 5 out of 5.