Winter Sports Season in Full Swing
While the first semester of the 2022-2023 school year is coming to an end, St. Joseph's Academy's winter sports are just beginning. Throughout the winter, St. Joe offers basketball, racquetball, dance, swimming, and diving. Whether students are trying out a new sport or continuing to play one that they have played for years, there is something for everyone in the St. Joe athletics department. 
The basketball program is coming off of a strong finish last year where the varsity team placed 4th in the MSHSAA Class 6 State Championships. On December 2, the varsity team won the Marquette Mustang Invitational. Only two games into regular season play, they stand at a 1-1 record. The junior varsity basketball team also won the JV Marquette Mustang Invitational on December 2. They have had a strong start and are undefeated in regular-season play. 
Sophomore Molly Pardeck has enjoyed her first year on the JV basketball team.
"I'm really happy that I made the team and I'm excited to keep working hard this season," Molly said. 
The freshman team lost their first game against St. Dominic on December 6 and will play again on January 11. 
Resuming its season that began in early fall, the SJA Dance team is continuing to shine on stage. After performing at a DeSmet football game in October, the team attended its first competition, the Lindbergh Invitational, on December 3. The team earned a trophy for placing 4th with their hip-hop routine. The dance team also performed at halftime during both the varsity and junior varsity basketball games on December 7 at St. Joe. They are looking forward to traveling to Orlando, Florida for nationals at the ESPN center in February. 
Sophomore and dancer Anna Emmenegger's favorite part of the season so far was the Lindbergh competition. 
"I had such an amazing time at our first competition and I can't wait for our upcoming performances," Anna said. 
The varsity, JV 1, and JV 2 racquetball teams are enjoying their seasons immensely. The varsity team has a 1-1 record against Visitation and Notre Dame High School; junior varsity 1 has a 1-2 record; and junior varsity 2 has a 2-1 record.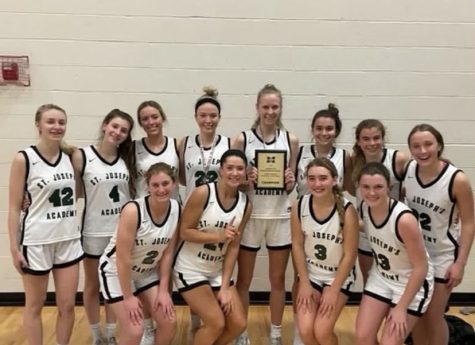 The swim and dive team started strong with a win against MICDS 97-88 on Thursday, December 1. The team is enjoying getting to know their new coach and English teacher, Ms. Emma Luem, and looking forward to all that is to come this season. 
Winter sports teams will take a short break at the end of December for the holidays but will return in January ready to work and succeed in the rest of their seasons.