Does Taylor Swift's Midnights Bejewel St. Joe?
The release of Taylor Swift's newest album, Midnights, has resulted in both debate among fans and statistical success. Opinions pertaining to it are varied, but the album continues to smash records and rise in popularity. St. Joe resembles this, as many students and faculty have listened to it, but are divided over whether or not they believe the album is a real hit. 
Following the announcement of her 10th studio album, Midnights, fans of Taylor Swift rejoiced everywhere. Anticipation was high in the two months awaiting the release, with much speculation surrounding the album as the 13 song titles were named one at a time by Taylor herself. 
The final hours awaiting its midnight drop were one of suspenseful glee; the album had no pre-dating singles, meaning that fans had no idea of what exactly its crafted aura would be. Nevertheless, faithful Swifties were confident in their expectations due to the celebration and applause of the intricate lyricism of folklore and evermore. 
But following its release, opinions towards the album have been divisive. There have been debates over the songwriting, the selected order of tracks, the originality and the overall message of the album. Online critique from fans on social media to editorial reviews have displayed this vast range of ratings. 
St. Joe's opinion of the album reflects this. From a survey of about one 150 people, 94 percent said that they liked songs from the album but do not consider it as Swift's best work. Only 6.6 percent ranked it as their all-time favorite album. 
Ms. Hannah Decker, Latin teacher, is among those who ranked the album as their top pick. Ms. Decker originally didn't listen to Taylor Swift's music much, and that is what she believes contributes to her love of the album. 
"I had nothing to compare Midnights to when it released–I think this made it easy for me to love [it] because I had no expectations for what it should sound like based on my knowledge of her older music," Ms. Decker said.
From her enjoyment of Swift's newest music, Ms. Decker has also started to enjoy older songs.
"My favorite part of the album is how intricately she calls back to her earlier music, and that's actually why the album has been a good 'introduction to Taylor' for me," Ms. Decker said. 
Others disagree, like senior Kate Theerman Rodriguez, who was not particularly impressed with the album. 
"On good days I call myself a Swiftie, on others I say I'm a fan. For Midnights, I'm just a fan," Kate said. 
Kate went on to elaborate that while she likes some of the songs, she thinks that the album missed the mark in originality and consistency. 
"I like a handful of tracks, including 'You're On Your Own, Kid,' 'Sweet Nothing,' and 'Glitch.' The rest I thought were mediocre, [and] the songwriting seemed incohesive with the theme at times," Kate said. 
When it comes to the individual songs, there is no debate about the three favorites at St. Joe. Reflecting its significant online popularity on media platforms such as TikTok and YouTube Shorts, "Anti-Hero" was ranked number one by students and faculty. Coming in a close second, "You're On Your Own Kid," and finally in third, "Lavender Haze."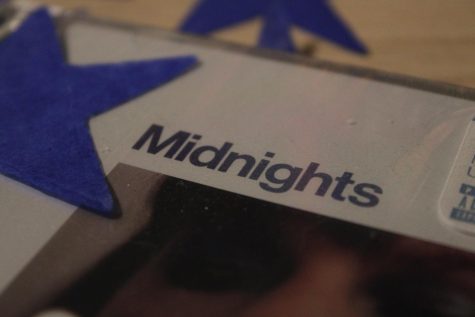 While the favorites were ranked by only small percentage differences, the data was clear when it came to what St. Joe considers a skip when listening to Midnights. "Snow On The Beach" just didn't quite make par, as the overall least-liked track. Alongside this were "Labyrinth" and "Vigilante Sh*t."
Although there may be some disappointment and what some consider to be missed opportunities, there is no ignoring the statistical success of the album or this phase of Swift's career. 
Within hours of releasing, Midnights broke records…and Spotify. The music streaming service temporarily crashed upon the high influx of users within the hour of the album's drop. Ironically it also broke Spotify history, becoming the most-streamed album in a single day, making Taylor Swift the most streamed artist in a single day and the most streamed female artist on the platform, period. 
Within two weeks of the album's release, Swift also held the Top 10 spots of the Billboard Hot 100. A feat that no other artist has ever achieved, surpassing Drake's record of nine from September 2021. While this achievement was brief, the new record remains and the entire album has held spots on the list, with the hit "Anti-Hero" continuing to hold a tight grip as number one. 
There is collectively little evidence to suggest Midnights is a flop of Taylor Swift's career. While fans differ on what they think of it as a whole, it seems that most who have given it a listen have found at least a couple songs that they enjoy. The album hits nostalgic notes at certain moments, reminiscent of Swift's beloved hits with a starry-skies twist. It is a spectrum of emotions and meanings tied to each track, meaning that anyone is likely to find one that they can connect.
Despite the mixed reactions, the album has still produced astronomical streaming numbers and overall success. This is not something that most artists are able to pull off. So whether you like, love or hate the album Midnights, you can't deny that Taylor Swift is, indeed, a mastermind of the music industry.