Seniors Accept It's College Application Season
As the first round of deadlines approach, seniors are beginning to make their final decisions regarding college applications. In-person college visits at St. Joe ended early last week and many seniors' application process is well underway. 
At St. Joseph's Academy, college counselors Ms. Christine Holladay, Ms. Annie McKenzie, and Mrs. Katie Kilcullen arrange weekly visits from colleges and universities across the country. Each week, before school or during lunch, college representatives from a variety of universities come to St. Joe and speak to students about what life is like at their colleges. College visits at St. Joe are open to all grade levels and are a great way for underclassmen to begin their college searches. In mid-September, sophomore Sarah Schoemehl attended her first college visit with the University of Miami (Ohio). 
"It was a helpful way to learn and receive information about the school. I was a little nervous but it was a super welcoming environment and I even felt comfortable asking questions about the college. Overall, it was a great experience and I will definitely be attending more in the future," Sarah said. 
If a student enjoys a particular college visit, they will often pursue their interest by scheduling an in-person visit to the campus or doing more research about the school online. 
Junior Claire Morrissey recently visited the University of Missouri in person.
"I got a private tour of all the athletic facilities and some of the campus and loved all of it. The campus was super welcoming and immediately felt like home. All the buildings are super cool and there is such a great college-town vibe. There are lots of fun restaurants and the columns in the middle of campus are so pretty," Claire said.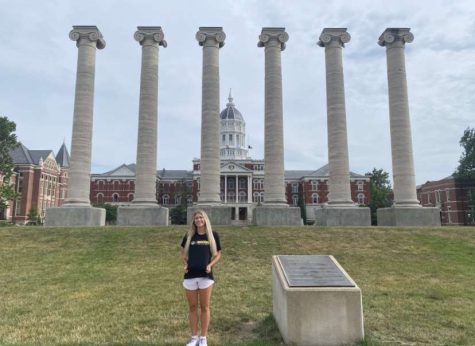 Currently, many seniors are also visiting college campuses to help narrow down their college search to their dream school. In-person visits to college campuses are extremely influential in a student's final decision. 
For seniors, college application deadlines are beginning to approach. For many colleges and universities, applications for early decision are due on November 1 and early action on November 15. Applications for regular decision are due on January 1, 2023. 
The college application season is both stressful and exciting for seniors as it marks the first step in moving toward their future outside of the walls of St. Joseph's Academy.