Highlighting Hispanic Heritage
Hipanic Heritage Month is celebrated from September 15 through October 15. Hispanic Heritage Month is a period in the United States when the achievements, efforts, and contributions of Hispanic Americans are especially celebrated and appreciated. 
At SJA, students participated in many events to help them appreciate Hispanic culture, including a Community Time presentation about Quinceañeras and a Mariachi Band performance. 
Three students organized the Community Time presentation. Seniors Natalia Delgado and Judith Vazquez-Perez worked with sophomore Yareli Martinez to put this cultural celebration together. Judith and Yareli are the two students who presented about Quinceañeras, which celebrate girls' transitions from girlhood to womanhood when they turn 15. 
The two students explained the cultural significance of these events and some of the traditions, such as dances, changing shoes, and attending Mass in the morning. Senior Judith also brought in her dress so that the SJA community could see how beautiful and intricate these dresses are. Additionally, Judith showed clips of the waltz that took place at her Quinceañera and showed clips of fellow senior Natalia dancing at her Quinceañera. As Diversity Team Representative for the Class of 2025, Yareli was happy to give the presentation. 
"I am glad I got to share part of my culture with the school because it is great to be informed about others' cultures, and to know some things if you are ever get invited to a Quinceañera," Yareli said.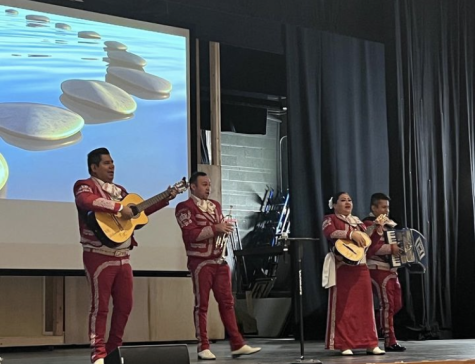 The second part of the Community Time presentation consisted of a mariachi performance by Mariachi Los Reyes. This segment of the presentation was organized by  Dr. Julia Wilkins-Kohrmann, Director of Diversity, Culture, and Climate. Dr. Wilkins-Kohrmann was very pleased with the presentation. 
"It was nice that we could learn more about our students' cultures and through the clips and seeing Judith's dress, it felt like we were able to participate in some of the celebrations and excitement with them," she said. 
SJA students also greatly enjoyed the mariachi performance. According to Dr. Wilkins-Kohrmann, one student especially appreciated the performance. 
"The Mariachi band was so great that a student getting ready for her Quinceañera is going to reach out and see if they will perform at her Quinceañera," Dr. Wilkins-Kohrmann said. 
Junior Lauren Shocker, an officer on the Diversity, Culture, and Climate team, appreciated the Community Time presentation immensely as an audience member. 
"I found learning about Quinceañeras very interesting and I loved seeing Judith and Natalia's dances; I also loved hearing the mariachi band and seeing their traditional clothing," Lauren said. 
The SJA community greatly enjoyed learning about Hispanic Culture. Students and faculty alike are looking forward to next year's Hispanic Heritage Month celebration.