St Joe Meets Mrs. Degenhart
Many new faces have appeared at St. Joe this year; one of those belongs to Ms. Sarah Degenhart. As many know, the former librarian, Ms. Ferell, recently moved to Las Vegas, so St. Joe was on a hunt to find a new individual to fill this much needed spot in the library. Ms. Degenhart fit that job perfectly.  
Mr. Degenhart is not native to St. Louis; she was born and raised in Wisconsin, near Madison. She still loves to go back and visit her father who still lives there. Although she has two older siblings, they left the house by the time she was in second grade, so she mostly spent her childhood as an only child. This gave her plenty of time to develop many hobbies that she still enjoys today. 
She loved to be active in high school, and she ran on the cross country team. She still enjoys running, but not to the extent as to which she did when she was younger. Ms. Degenhart also ventured into music. One of her favorite pastimes was playing the violin. One obvious hobby since she is a librarian is her enjoyment of reading. She loved to explore different worlds in books and owned many as a child. She would always find herself gravitating to a new book if she was ever bored and had free time. One of her hobbies even foreshadowed her future career. 
"As a child, I loved to rearrange my books in my cabinet," Ms. Degenhart said. 
She is now able to enjoy her job and complete activities that she has loved her entire life like organizing books and reading. 
Although Ms. Degenhart always recognized a desire to work in a school, she planned on being a college-level  teacher. She traveled to the University of Dallas for undergrad and majored in English Literature and Education. She then studied for her masters at Fontbonne. After graduating, she became a teacher, but first took a break to raise her three daughters. They are all still attending school in St. Louis and their ages are 11, 13, and 16. Afterwards, she went back to work for Our Lady of Pillar right down Litsinger as a librarian. She loved working at this school, but she couldn't resist the urge to come to St. Joe when she discovered the new job opening.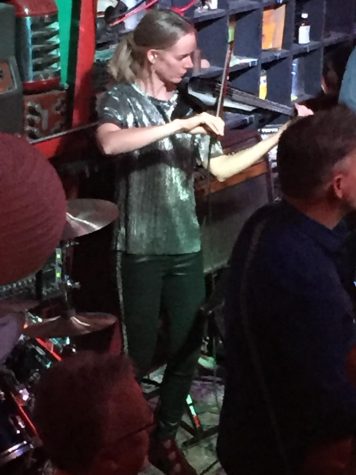 Her main motivation to become a librarian came from someone she met and often interacted with at her own high school. 
"One of my favorite teachers and mentors in highschool was the librarian," Ms. Degenhart said.
She could always depend on her for advice and help with schoolwork. She hopes to help the same way for students at St. Joe and act as a mentor for someone else. 
Sophomore Izzie Patritti recently asked Ms. Degenhart for help checking out a book.
"I had no idea which book to pick out, so she was really helpful choosing which genres I should look at and explaining the topic of each book. She made the process so much easier for me," Izzie said. 
In the short time she has spent at St. Joe, she has loved her experience. Her highlight of this fall semester was the opening of the new library. While it was initially hard not having an available space for students, the celebration of its opening made it all worth it in her opinion. She loved the way the whole school watched the ribbon cutting together and seeing the students' faces light up as they walked into the newly-renovated space. 
Ms. Degenhart is excited to meet new students and make the library a wonderful place for everyone to visit. St. Joe is so excited to see the impact Ms. Degenhart makes at the school.