What is the Importance of Club Week?
The school year is expected to be exciting, thrilling, and full of new freshman faces. Clubs are one aspect of a school year's leisure. A variety of clubs are available at St. Joseph's Academy for any student who wants to explore a new hobby, expand their knowledge, or have fun with their sisters. 
The integration of clubs at St. Joseph's Academy is especially beneficial when referring to new freshmen, who may be strangers to the vast majority of their fellow classmates. The majority of clubs available ensure that every student, regardless of their interests, can find something they are passionate about. When joining a new club, it is common to become acquainted with new people who share similar interests. As a result, anyone can use clubs to further their integration into the St. Joseph's Academy community.
Mrs. Carrie Hill, a computer science teacher and the moderator of the spike ball and baking clubs, has positive things to say about the benefits of clubs. She emphasizes the importance of embedding Freshmen into the community through clubs.
"For the freshmen specifically, it gives them the opportunity to meet students who are in other classes. Especially students that they wouldn't necessarily walk up and introduce themselves to," Mrs. Hill said 
When first entering into St. Joseph's Academy, the atmosphere can feel overwhelming at times. There is a lot to learn, a lot of people to meet, and a lot of change to become accustomed to. At times, school can feel strict and demanding. These emotions can be exemplified when students experience the initial shock and change of entering a new environment. Clubs, especially those that cater to each person's specific interests, have a relaxed ambiance. This laidback atmosphere can be a relief from the initially overwhelming nature of change. Indulging in this comfortable aura can be extremely beneficial to freshmen.
Students also express their love for clubs. They recognize the advantages of being around sisters who share common interests. Senior Kate Theerman Rodrigues, who participates in numerous extracurricular activities at Saint Joseph's Academy, declares her admiration for clubs.
"Being involved in clubs gives you the chance to interact with Saint Joseph's Academy in a meaningful way and in a way that you can call your own. It is also a great way to make new friends. I've met a lot of my favorite people from being involved in the Saint Joseph's Academy tech crew, and the Diversity, Culture, and Climate Team," Kate said.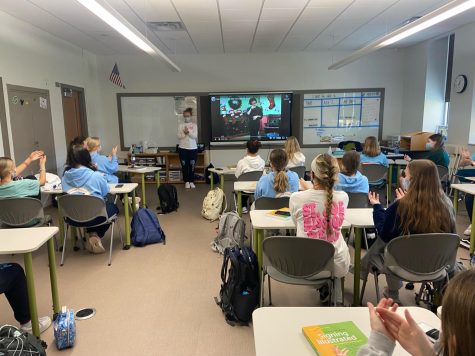 Clubs can help students, whether they are freshmen or seniors, feel as if they belong at St. Joe. They provide individuals with the opportunity to dip their toes into new activities. And if the clubs they try don't spark their interest, there's always another club waiting for them. Club week was an excellent opportunity to join new groups with friends or to go solo and meet fresh faces. 
St. Joseph's Academy has something for everyone, and clubs contribute to the growing diversity of the community. New clubs are added to St. Joe's every year. Students are strongly encouraged to join existing clubs or, if they have an idea, to introduce them into the school in the hopes of forming a new group where people can feel welcome. There are many benefits that stem from jumping into a group of unified sisters. So, if anyone is hesitant to join a club, look for something interesting and dive head first into the St. Joseph's Academy community.