St. Joe Welcomes Ms. Luem!
As the new school year is beginning, some of you might notice a few new faces around the school. One of these new faces belongs to Ms. Emma Luem. Ms. Luem is a new English teacher and swim coach at St. Joe. She grew up in the St. Louis area, specifically North County. Her mother lived in Hazelwood, and her father and stepmother lived in Florissant. Ms. Luem is the second oldest of eleven children, so growing up, she loved to take care of her younger siblings. 
"I would make my siblings go to the basement and 'have school' when school got out, and I would teach them what I learned that day in school,"  Ms. Luem said.
Despite her love for working with children, Ms. Luem did not always want to be a teacher. When she was in elementary school, she wanted to be a pilot. Growing up, she noticed that there were not a lot of female pilots, and she felt inspired to be among the first. However, by high school she realized that she had a true passion for working with children, and that was when she decided that she wanted to be a teacher. 
"I've always liked taking care of kids and working with kids and being with kids,"  she said. 
Ms. Luem attended high school at Incarnate Word Academy for two years. She then transferred to Pattonville High School. She got her undergraduate degree in Secondary English Education from the University of Missouri. Then, while she worked on her masters degree, she began a job in elementary education, working with young children for a semester. She later taught middle school for a year, then she spent a couple of years teaching sophomores and seniors at Incarnate Word Academy before earning her masters degree from Lindenwood University this past summer.
Ms. Luem will be teaching Literature and Composition to freshmen and College Prep Writing to seniors. She is also the moderator for the St. Joe Literary Magazine. Ms. Luem is very excited to become a member of the St. Joe community. Having attended Incarnate Word Academy, she grew up harboring a bit of a rivalry with St. Joe. However, when the time came for her to start considering jobs, she noticed that St. Joe had an opening, and she decided to apply.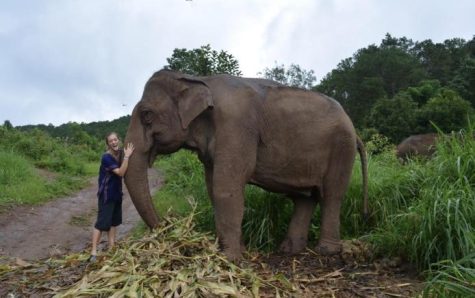 "I have just heard in my professional career so many great things about being in this community. I've worked with a few other teachers in previous jobs that are now here, and they were like, 'It is amazing, you will love it,' and I was like, 'Okay, I'll give it a try,'"  Ms. Luem said.
Then, after her first interview, Ms. Luem fell in love. 
"It really did feel welcoming. I felt the community when I was here, even in my Zoom interview," she  said. 
Ms. Luem loves teaching at St. Joe so far. She enjoys working with and bouncing ideas off of the other English teachers. She is also looking forward to getting to know all her students as the year progresses. Ms. Luem has always been very passionate about reading and writing. Her high school English teacher was a very big inspiration to her, and she is looking forward to helping her students grow in their English skills.
Ms. Luem's students are also looking forward to getting to know her as the year continues. One such student is freshman Chloe Gloriod, a student in Ms. Luem's Literature and Composition class. Chloe thinks that Ms. Luem is really nice and very inspiring. 
"She is very empowering. She inspires us to be feminist in a certain way and integrates that into writing and English," Chloe said 
In her free time, Ms. Luem likes to spend time with her family and friends, as well as her cat, Eros, who is one year old. She also enjoys traveling and camping.
Ms. Luem wants St. Joe to know that she is very excited to be here. Her room is always open, and she is looking forward to a great year. St. Joe is also thrilled to have Ms. Luem and cannot wait to get to know her!