New musical Theater Course Taking the Stage at St. Joe
When St. Joseph's Academy announced the addition of a new honors musical theater course this year, many aspiring actresses were overjoyed. However, it is understandable that many students are nervous since little is known about this new course.
Mrs. Janine Albes, Director of Theatre Productions, said the course is set into different genres: comedy, drama, rom-com, and also time periods.
" Looking at those together will give our students an opportunity to have a real timeline of how musical theater began, where it came from, and how it has transformed into what it looks like today," Mrs. Albes said.
A timeline of musical theater will be extremely useful for aspiring actors. When deciding to devote time to a hobby, it is critical that individuals understand almost every aspect of their craft. Being well-versed in the moving parts that comprise a whole will enhance the actress's ability to identify certain aspects of musical theater all while deepening their understanding of their craft. 
Mrs. Albes is excited to see the growth of its students throughout the class.
"Our goal is to give every student the instruction needed to know how to create a character in a moment onstage in musical theater. And what different musical styles are needed vocally, and what different acting styles are needed," Mrs. Albes said.
Learning to accept constructive criticism is one of the most important aspects of performing. Even those in professional positions, especially those involved with high end productions, will make mistakes. It is critical that young, impressionable actresses understand the value of feedback. 
Furthermore, understanding the importance of various vocal and acting styles is extremely beneficial. Every actor possesses a distinct set of abilities that can be applied and manipulated in a wide range of theater productions. It is critical to encourage and develop these talents in order to help young women gain confidence as actresses. When an individual is not cast in a role, it is most likely due to the type of person the director is looking for rather than the individual's talents. In this course, students will learn the best roles to apply themselves to in order to express their best selves.
Sophomore Kathryn Portman, who has been involved in previous musicals at St. Joseph's Academy has high hopes for the class.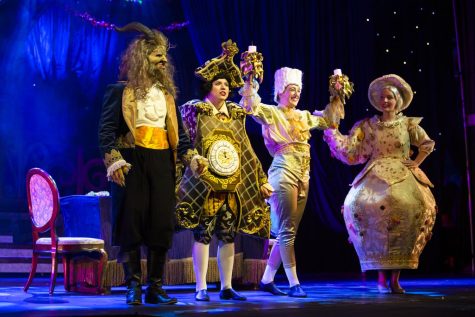 "I think that a musical theater course at Saint Joe would be beneficial to the students who are interested in that area of the arts. It would be awesome for the people who are interested in theater but don't have the availability to be in the school's production," Kathryn said.
This class will be extremely convenient for busy high school students in addition to the numerous educational benefits. Hardworking individuals who don't have the time to fully immerse themselves in after-school musicals can develop their wonderful talents during the school day. This factor ensures that anyone who is even remotely interested in pursuing the arts will have a perfect opportunity to dip their toes into potential hobbies at Saint Joseph's Academy. Moreover, the opportunity to connect with others who are interested in musical theater can be a huge benefit of taking this course.
Aspiring actresses at Saint Joseph's Academy have high hopes for the brand new honors musical theater course. Students can expect to learn more about musical theater and improve their skills all within the school day.