Students investigating new courses for registration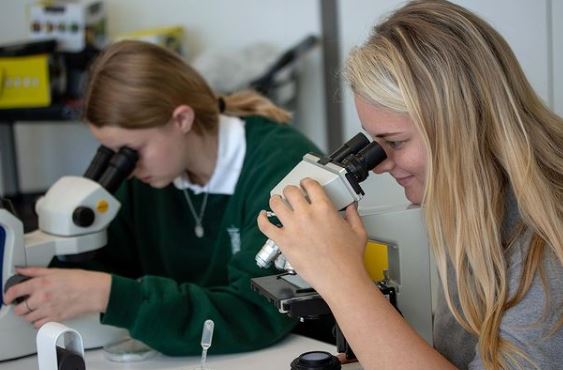 As the 2021 school year comes to closure and students register for classes, juniors, sophomores, and freshmen are faced with choices. Several new classes have been added to the curriculum as core and elective classes for the upcoming school semesters. Read below for more information and for further details. For more information, please visit the St. Joe Curriculum guide. 
Added Business Courses
Economics
This course is your typical economics class that will cover anything from microeconomics to macroeconomics while ranging in various viewpoints from the global economies. Students should expect to build from real-world economic applications as well as a basic understanding of the economic concepts and systems. This class is offered to incoming juniors and seniors and has no pre-requirements.
International Business
This course draws interest in the global economy, trade, diverse workforce, intercultural communication, international operations and management, marketing, and travel.
Added ACP/AP and Honors Courses
Below are several classes that have added either AP credit, the honors mark, or ACP credit through UMSL. These are new editions to the curriculum to the school year 2021-2022. All of these classes are semester-long with the exception of ACP Pre-calc. 
ACP Social Psychology of Identity
ACP Sociology
Honors Modern American History
ACP Digital Photography II
ACP Graphic Design
ACP Precalculus
ACP Personal Finance
AP Computer Science A
These courses hopefully will spike some interest among the students and faculty by providing new outlets for certain paths in education. 
St. Joe's academic counselor Mrs. Donna Videmschek opens up about the new courses.
"As a former social studies teacher, I am excited to see more options and electives available in the social studies department," she said. 
With that said Mr. Brandon Westlake, a social studies teacher, highlighted his Modern American History course which he said looks at American during the 1960s-1990s. He said they will spend time examining the impact and actions of social groups, such as African-Americans and women. He also mentioned that Pop Culture is a big part of the course.
"We look at how, for instance, pop music changed over these decades and how types of movies and TV shows reflect big ideas or changes throughout the time period. My goal is for girls to be able to make connections between what their lives are like, and what is popular/relevant today, and see where those ideas begin," Mr. Westlake said. "There's no One Direction without New Kids on the Block from the 1980s or Frankie Valli from the 1960s. There's no The Office without Seinfeld or Friends."
Senior Megan Wilhelms reflects on some of the new courses.
"I wish they had international business and more history options this year, though I am glad they are adding these courses for the upcoming school year," Megan said. 
If you have any questions consult the curriculum guide provided by St. Joe and/or contact any department chair members for personal questions. 
Curriculum Guide 2021-2022: https://drive.google.com/file/d/1FqYVD5I2YoZAN8eLVmEpzd0SyWtSI9GQ/view
*ACP, College credit offered through UMSL
*AP, Advanced Placement testing