St. Joe Basketball Shoots for Success
One of the winter sports played here at St. Joe, is basketball. Basketball is divided into three teams: freshmen, junior varsity, and varsity. For the 2020-2021 school year, Bob Isaacson is the coach for the freshman team, and Courtney Harris and Dee Smulczenski are the JV coaches. Julie Goessling Matheny is the head coach of the Varsity team, with Bob Goessling and Tim Stock as assistant coaches. 
Freshman Victoria Stiegman, a player on the freshman basketball team, plays both field hockey and basketball for St. Joe. 
"It has been so fun to be on the basketball team. It's been such a great way to stay involved during such different times with COVID-19. Through the season, I have had the chance to make so many amazing friends," said Victoria.
This is not the first year Victoria has played basketball. 
"I have played basketball since the fourth grade and was very happy to have the opportunity to play on the St. Joe freshman team," she continued.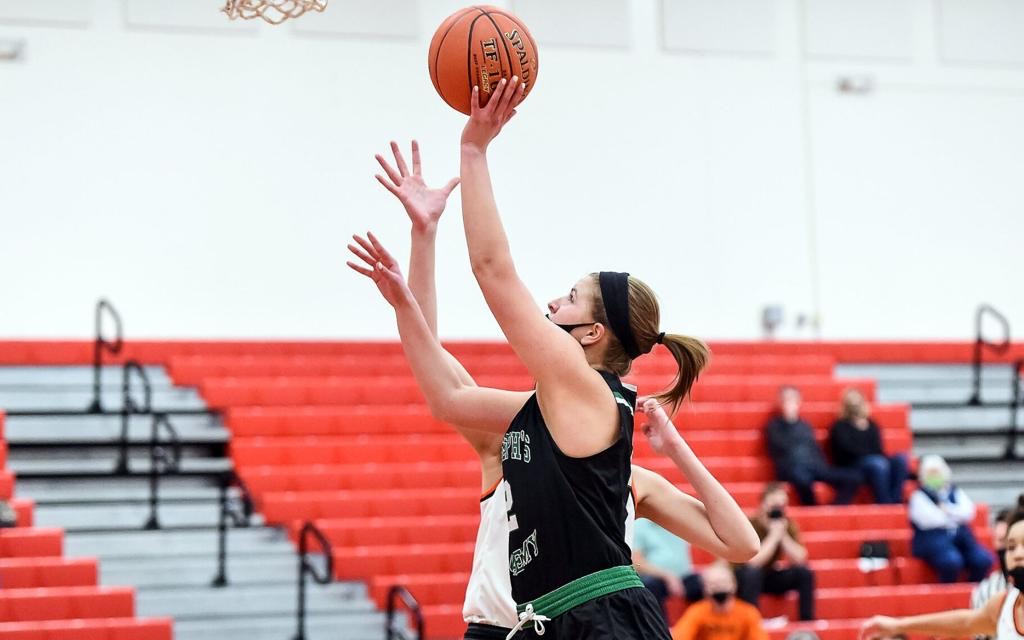 Sophomore Katherine Niemeyer, who plays on the JV basketball team, has played basketball ever since the first grade, where she played on a CYC team. She also played basketball for St. Joe last year on the freshman team. But besides playing basketball, Katherine also plays lacrosse for St. Joe during the spring season. 
"My favorite part about being on a team is knowing that I always have other girls trying their hardest with me and seeing us all work together towards the same goal," Katherine said.
Senior Michele Origliasso, a player on the varsity basketball team, has been playing on the St. Joe varsity basketball team ever since she tried out as a freshman. The varsity team made it to districts. 
"This year in districts we beat Ladue and then we lost in the Semi-finals against Webster Groves. Webster went on to take 2nd at state. Even though it was a bizarre season with COVID protocols, quarantines, and many other factors, we fought and continued to get better all season," Michelle said.
Michelle is committed to playing basketball at Rockhurst University next year!
"My favorite part about being on the St. Joe basketball team was making some great friends and connections with my teammates and traveling to Chicago, Orlando, and Kansas City," she said. 
All together, basketball season was a fun time for all of the St. Joe basketball teams. Even in the midst of COVID-19, the girls had a great time playing with new teammates and growing friendships with one another.