Trying out for spring sports
With spring sports advancing into the beginning of their seasons, St. Joe athletes have been training and exercising at practice. Sports have been encouraged since 1938, and the school now proudly recognizes a total of 59 State Championship titles in a wide range of athletic teams. In addition to academics, the outstanding athletic program has been a leading element in prospective student decisions. Recognized in the newspaper for athlete successes, St. Joe students are known to be regularly scouted and receive college athletic scholarships for their hard work and commitment. While athletics have received a prominent reputation, students still maintain the MSHSAA exceeded scholastic achievement standards of a 3.4 GPA or higher. Talented athletes seem to be drawn to St. Joseph's Academy, a place known for its devoted coaches, high competition, and guaranteed success. 
The first week of March kicked off the spring season with its outdoor field tryouts. After the 2020 spring season was cancelled, the girls are dedicated to making this year victorious in hopes of snatching another state title. All sports tryouts were held from March 1st through 5th, and the spring weather made them much more enjoyable. Lacrosse was scheduled on their designed fields from 3:45 p.m. to 5:45 p.m. Track tryouts were held at the CBC track from 4:00 p.m. to 5:45 p.m. after school. As an update on soccer tryouts, they did not start until Tuesday, March 2nd since some players were at a rescheduled tournament during the original date.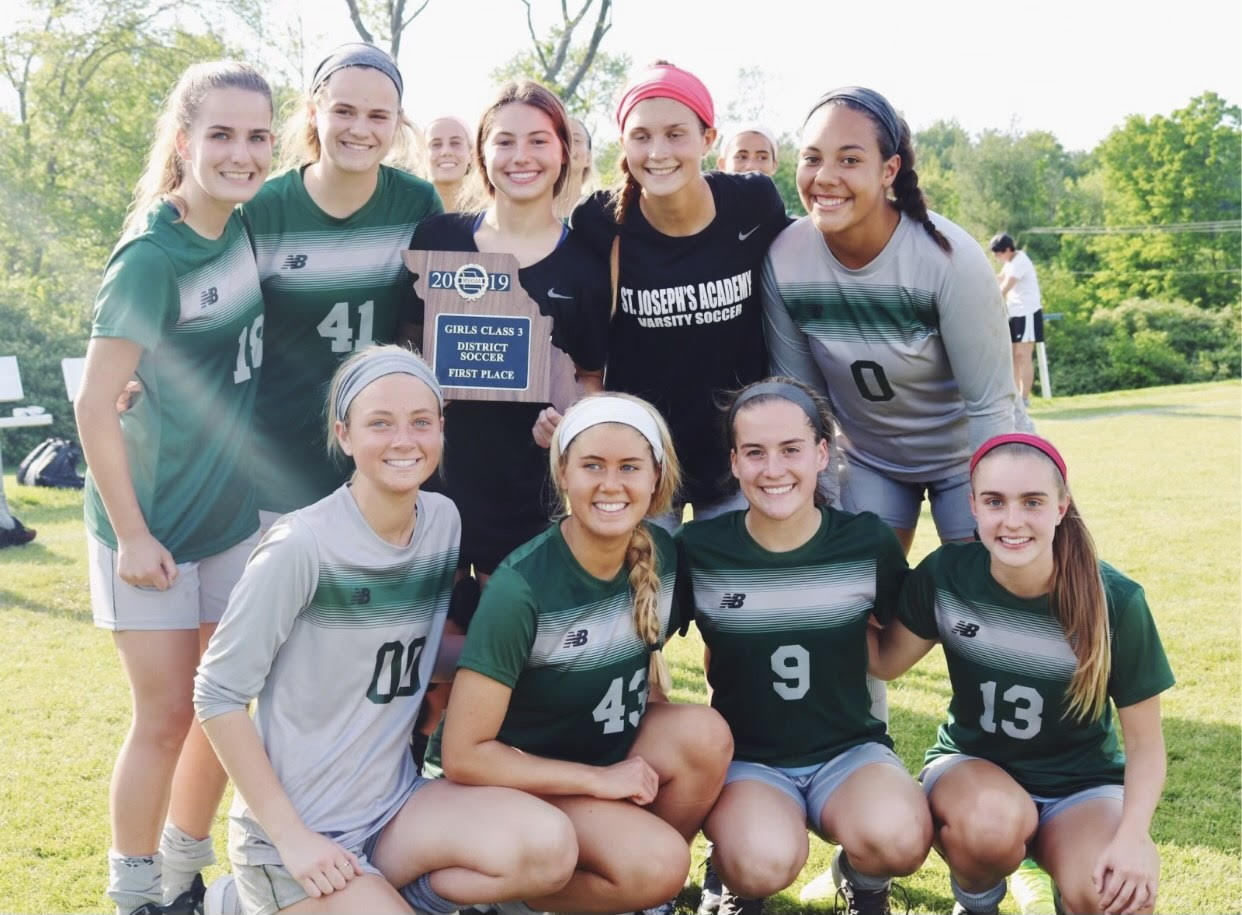 Coach Maureen McVey, St. Joe's Athletic Director, regularly reminds students to hand-deliver their MSHSAA physical and Annual History Form to their coach on the first day of tryouts in order to participate. While the physicals are good for two years, the Annual History Form is due yearly so students will not need to produce a new one if they played a fall or winter sport already. The girls have also been advised that they might be practicing into the weekends in order to get their minimum requirement of 14 practices by March 25th. 
With all the technicalities out of the way, each team has prepared in a unique way to fit the needs of the players and regain a teamwork mentality long disregarded due to the pandemic. The lacrosse team took part in Orange Theory classes for both the JV and varsity players. Every Tuesday at 3:00 P.M., the team headed to the Ladue location right next to the school to exercise. Working out before tryouts ensured that the girls would be in shape and promotes a healthy lifestyle. 
Mary Mansfield has exerted her leadership skills both on and off the field through field hockey, lacrosse, STUCO, and class office. As a senior at St. Joe, Mary has been looking forward to her last season as a lacrosse player. 
"With a lot of school events being canceled due to COVID this year, I'm so excited that we get to have a lacrosse season!" Mary said. "It's been such a fun experience to practice and play with my amazing teammates for my senior season!" 
Outside of St. Joe, some girls on the soccer team attended The Legion of Strength, which is a fitness and performance training center run by Johnny Johnson. Twice a week, soccer had group workouts to increase their strength, speed, and agility. 
Last but not least, track is on the path to success by completing individual distance runs for conditioning. Using an app called RunKeeper, the girls were able to record their scores and improve their time. The track team says it is beneficial because they can do the workout on their own time and report their scores electronically. 
Mrs. Colleen Smith-Yelton, in addition to being the Department Chair of Physical Education, is regarded as a health professional at St. Joe. She makes the connection between sports and promoting a healthy lifestyle to her teenage students.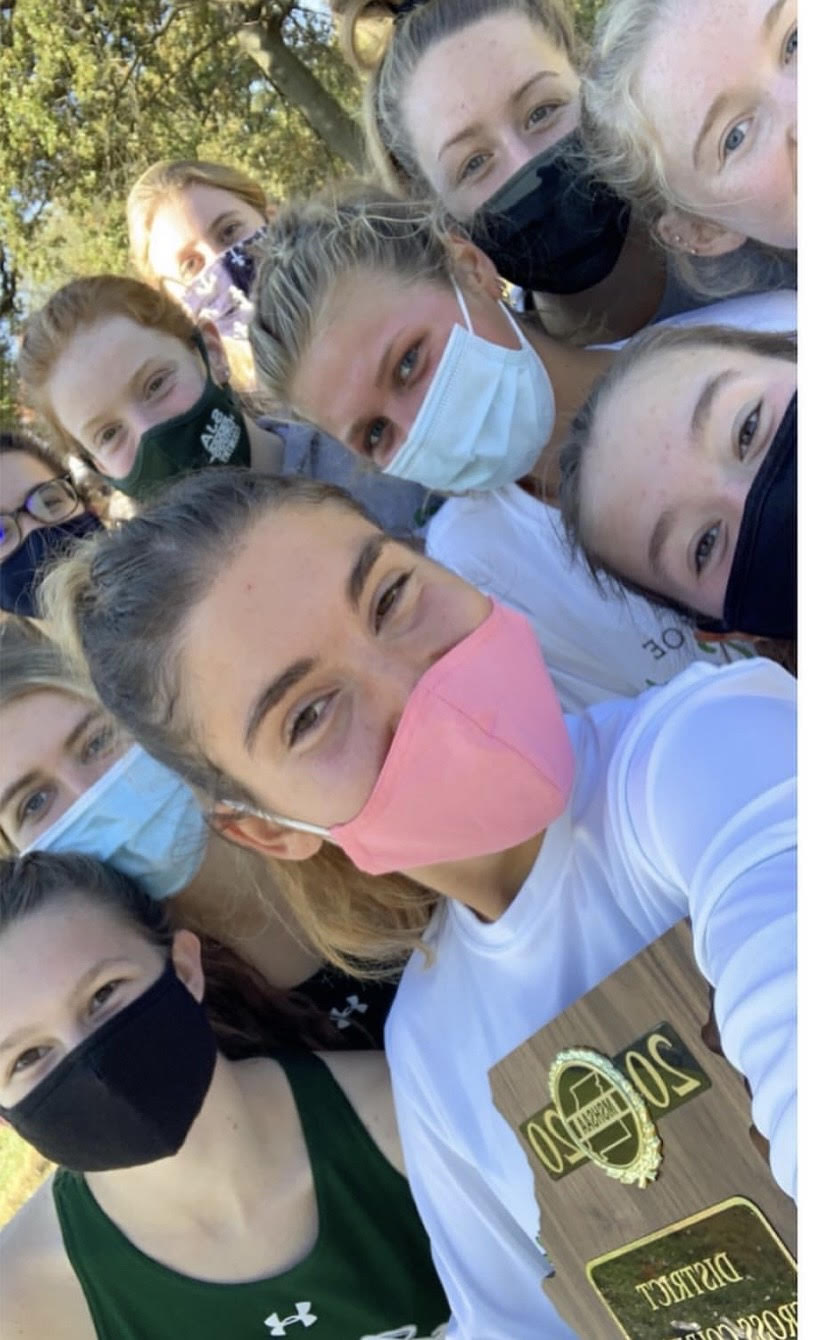 "Exercising is a key component that can help reduce stress, anxiety, and depression, while all at the same time boosting your mood and your overall well-being," said Mrs. Smith-Yelton. "With the upcoming sports, make sure you are exercising daily, eating a well-balanced diet, and hydrating your body." She also went on to say that studies have shown how exercise can even improve test scores due to the positive influence on memory and concentration. 
While winning is a driving force to the girls, they also prioritize the opportunity to represent St. Joe with honor and dignity. The supportive environment allows them to take a healthy break from school work and come to the field prepared to play. Turning stress into fuel, they are able to balance their academic endeavors with athletic achievements. For students with other specialties, the competition creates a sense of pride and school spirit. Carrying the skill set, knowledge, leadership, and communication skills from their particular sport, St. Joe girls apply these traits in other pursuits in life. The Home of the Angels is beginning a successful season, as well as a noteworthy approach to the second semester.