St. Joe Angels run towards the State finish line
St. Joe's Cross Country Team represented the Angels with endurance and class on their competitive road to state. Fall is the start to the cross country season, and the Class 4, District 3 team qualified for state after persevering through several meets. The girls dedicated the season to staying healthy and fit, so that they could run to the best of their abilities. Encouraging each other to finish each race, the teammates exert the leadership qualities needed to boost the team and make it a successful athletic year. 
This year was unlike the girls' previous experience, since they were working with a new coach. As a former Villa cross country coach and present Marquette track coach, Scott House has been a knowledgeable mentor for St. Joe athletes. He was eager to lead St. Joe to state this year, as the students adapted to a new coaching style. None of the girls knew him before this season, but they now have several team traditions that have assisted them in their bonding. The first all-team practice after a meet, Coach Scott acknowledges each runner who set a new school record or a personal record. This tradition notices hardworking players and allows everyone to set new goals for themselves. Rewarding them with candy bars, Coach Scott offers a spirited, friendly attitude toward the girls. 
"With so much uncertainty about our season due to the pandemic and it being my first season coaching at St. Joe, I could not have asked for a better group of athletes," said Coach Scott. "We had great leaders, great people, and fantastic attitudes, which is why we were able to become the 8th team in school history to qualify for the State Championship meet. This was a team in every sense of the word, and it showed in every workout and every meet as we got faster every day." 
The players attribute their hard-earned success to countless practices and motivation from Coach Scott. Cross country practiced four times during the school week, making sure to run at least 3.1 miles each day. On the weekends, the athletes tracked their running through an app called RunKeeper to stay in shape. 
Kathryn James is a senior, and this is her second year on the cross country team.
 "Cross Country has 100% made my senior year the best year of high school," said Kathryn. "I made great friends, but I also worked very hard everyday. The effort everyone put in since August is the reason we were able to be so successful this season."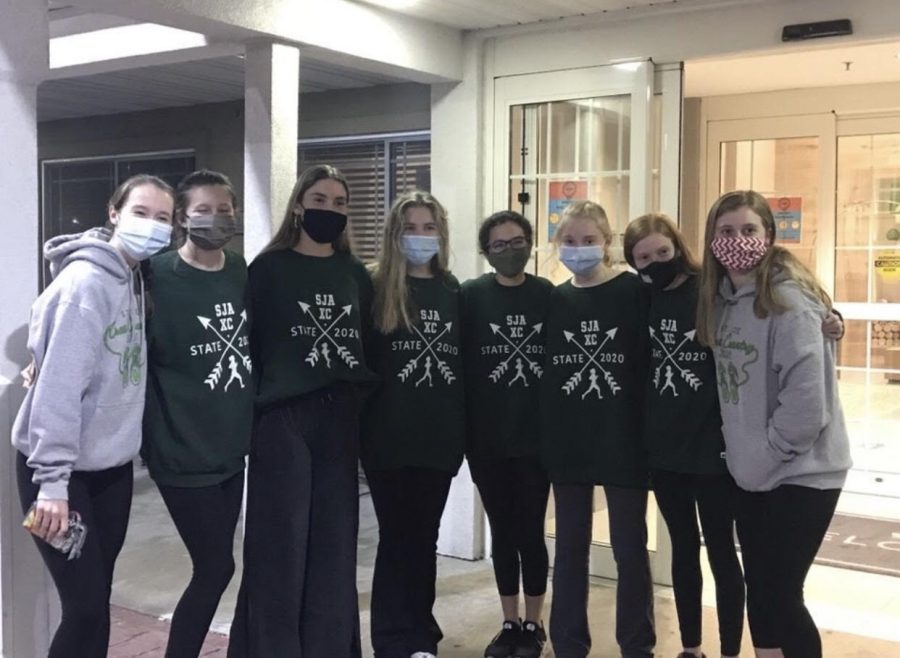 Competition began on Monday, September 21, the start of Nike Cross Virtual Week 1. The next week, the St. Joe team attended the Incarnate Word Invitational at St. Vincent Park where they showed off their extensive training. SJA's cross country team came in a notable 4th place above Visitation in the 5,000 Meter MWAA Conference Meet at Jefferson Barracks. The girls' determination was evident after the team came in 3rd place at the Northwest Last Chance Meet with Hillsboro and Seckman in front of them. They continued to improve, snatching the 2nd place title behind Ft. Zumwalt South at the MSHSAA Class 4 District 3 Meet. Cate Guenther took 2nd place overall with a breathtaking time of 20:07:8. Several other teammates, including Julia Castellano, Addie White, and Josie Tegethoff, placed close to her, around a minute to two minutes later. St. Joseph's Academy had qualified for the MSHSAA Class 4 State XC Championship. 
As a freshman, Cate Guenther has made a remarkable impression on the cross country team.
"I loved being on the team this year and running alongside so many great people," said Cate. "We pushed ourselves to improve, and it definitely paid off when we made it to state. It's one of the best experiences I've had at St. Joe so far!" said Guenther.
State took place on Friday, November 6th in Columbia at a park called Gans Creek. In Boone County, COVID-19 restrictions limit the attendance to two spectators per runner. The St. Joe girls arrived around 7:20, an hour before the race. With positive and upbeat attitudes, the girls began their normal warmups and stretches. At the starting line, each Angel prepared for their momentous run. As the official fired their pistol, they took off, running with passion toward the finish line. Overall, St. Joseph's Academy came in 14th place, an astounding accomplishment. 
The St. Joseph's Academy Cross Country Team put in the dedication and discipline needed to succeed at the 46th MSHSAA Cross Country Championship. They conquered the track through their strength, ability to adapt, and strategic approaches to finishing each run.