Persevering in order to make history
The St. Joseph's Academy Golf Team was named state champions for another year in a row. Ending the one-day state tournament with a total score of 306, the Angels snatched their fifth consecutive Class 2 girl's state title. The girls' dedication will not go unnoticed, playing in chilly and rainy conditions the first day only to get their scores canceled. Their goal all year has been to make it to this point: setting another state record. Their steadfast support for one another and passion for the sport has contributed to St. Joe's success in golf over the years. 
State was held in Cape Girardeau at a course called Dalhousie Country Club. The players, including seniors Drew Nienhaus and Nicole Rallo, juniors Mia Rallo and Izzy Arro, and sophomore  Riley Andrews had high hopes coming into the tournament. They stayed in the Marriott in downtown Cape Girardeau, where they explored the city and enjoyed restaurants while they were there. 
They attribute their successes to their goal-oriented and knowledgeable coaches, Carol Fromuth and Melanie Wolf. Without them the players say they would not be where they are today- both in skill and as a tight-knit community. 
Coach Fromuth has been a golf coach at St. Joe for 24 years, winning multiple state championships. The Angels are also led by a St. Joe aluma Melanie Wolf, who graduated in 2016 and continued her golf career at Wesleyan University in Illinois. 
Coach Fromuth was recently recognized as Coach of the Year for girl's golf by MSHSAA, as well as the National Federation of State High School Coaches.
 "I am so proud of our players for all their accomplishments, especially how they never quit," Coach Fromuth said. "Not only did they have to battle the golf course at state, but the weather was also another obstacle. In the end, their hard work paid off, and the golf team won their fifth consecutive championship title." 
Originally, the two-day state tournament started on  a Monday and planned to go into the next day. However, weather ended up playing a major factor as the rain prevented the girls from playing. In the first round of play, St. Joe got through six holes before they were interrupted by a downpour. After a two hour delay, the girls played two more holes and were sent back inside to the sound of a horn. The course had been deemed unplayable because of the extremely wet conditions. MSHSAA decided to cancel the scores from the day and make a tournament consisting of 18 holes on Tuesday. 
The girls didn't succumb to doubt, and they approached the following day with a positive mentality. They reported to play better since the conditions were not altering their abilities. With no delays, the teams got to play a full round of 18 interrupted holes. In an effort to ease tension, Drew was unaware until after the final round that she had to make par on the 18th hole to win the state championship. SJA had won the championship by a mere one hole, thanks to Drew.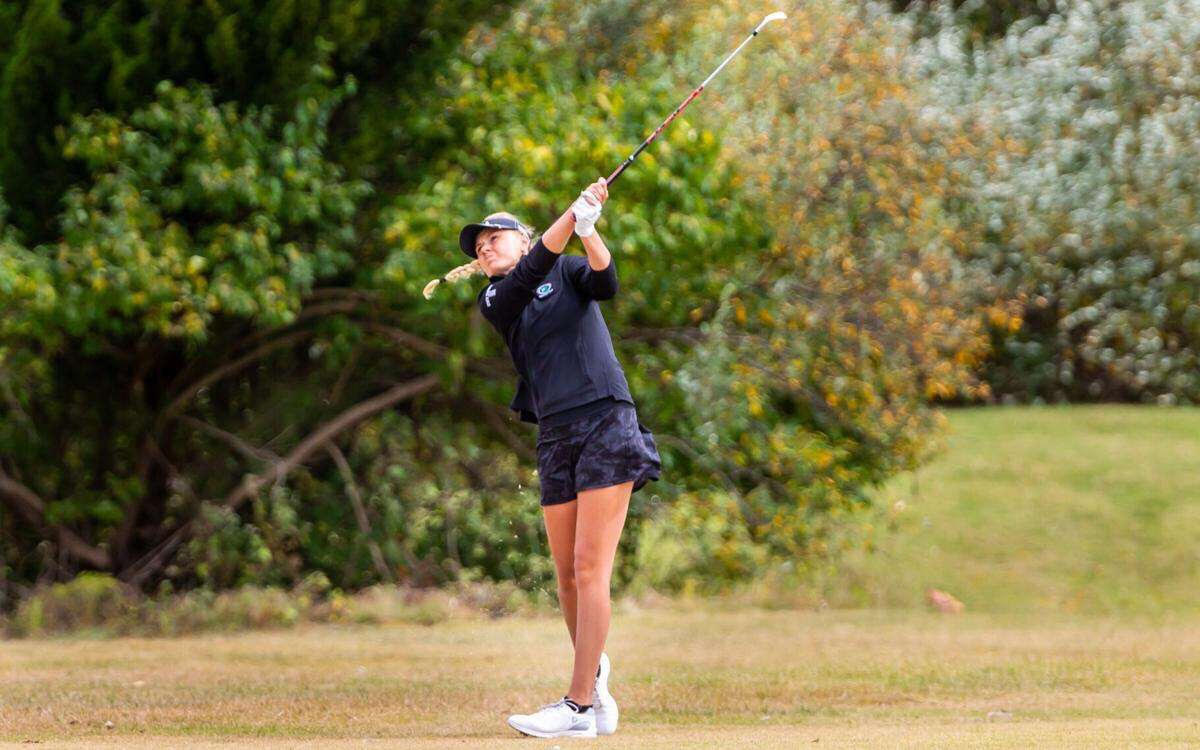 Drew just won her last high school state championship, being a senior at the Academy. She will be a notable contribution to the Penn State Golf Team next year. 
"We've made history by winning five consecutive state championships, and I'm so proud to be a part of this team," Drew said. "I will miss these girls that I've spent so much time playing with, but I know they will be great leaders when the seniors are gone." 
Individually, junior Mia Rallo took third place, while Izzy Arro and Drew tied for fifth. Nicole Rallo placed tenth in a tie as well. 
Since state was held outside of the region, the players were required to quarantine for a full two week before coming back to school. They accepted this factor, knowing the state championship was their main priority. In the end, they were able to persevere through the obstacles they were faced with, both on and off the course. The girls relied on one another through the tournament and were able to finally celebrate with the shining gold trophy in their hands. 
Senior Nicole Rallo played her final year on the team next to her younger sister, Mia. 
"Winning the state championship shows how important each stroke is, but it also tells a story about the importance of not giving up," Nicole said. "I believe Mia made an amazing contribution to the team that day. She was a leader during the state championship and played some of the best golf I've ever seen her play." 
The St. Joe Angels came home with another state title, as they conquered the golf course. Their astute leadership qualities and ability to lean into discomfort will take them far in life, as well as in their individual careers in golf. Their coaches attest to the idea that they never lost hope through the whole experience and exhibited prime traits to succeed. It is evident that they represent St. Joseph's Academy well through honor, dignity, and class.