Cross Country runners chase districts
On October 30, 10 of St. Joe's  cross country girls competed in districts at McNair Park in St. Charles. St. Joe was represented by five seniors, two juniors, one sophomore, and two freshmen. The cross country team  headed to districts well-prepared, with a positive mindset and determination. The efforts of their hard work and grit throughout the season paid off when they got 2nd place overall.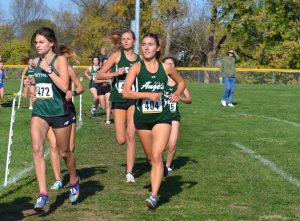 The cross country season started with many new challenges. Not only did the practices include social distancing, but the team was introduced to a new coach, Scott House. The team welcomed 10 freshmen this year, who adjusted quickly while forming new friendships. As a result of COVID-19, some girls who had been exposed to the virus were quarantined throughout the season. 
Junior Grace Kelly explained the importance of practicing safe socializing while being an athlete.
"The most intimidating thing for me was what was on the line and the impact that a single person's performance could have on the team results," Grace said.
Despite these challenges, the season was overwhelmingly successful and filled with many positive experiences.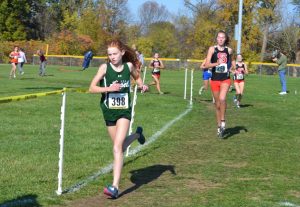 When reflecting on districts, the team often thought of their coach and the impression he made during his first year at the Academy. Senior Sarah Hughes touched on his impact.
"My most positive memory is definitely when Coach House spoke to the team and told him how much we inspired him and how our team is like family. I was nervous until I got there, and Coach reminded us that God has a plan for us and no matter the outcome, he was proud of the team,"  Sarahsaid.
This reassured the girls and calmed their nerves leading into the race.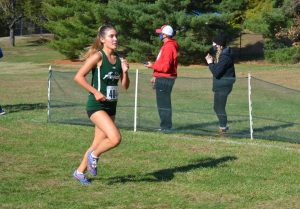 The course at McNair was familiar to the girls, as they had previously competed on the same course during the season. The course was a three loop course with an extra half mile section to the finish. As with every race, however, nerves are common and competition can be intimidating. Although this is true, the SJA girls ran their hearts out and proudly brought home a second place finish, opening the door for them to compete in the state competition.