Making the most of Thanksgiving break
Thanksgiving, a cherished holiday usually spent with large numbers of family, has officially arrived. At St. Joe, the students and faculty are lucky to get a full week off for this holiday. With so much time at hand during Thanksgiving break, two juniors talked about how they spend this time. They discussed what their typical Thanksgiving week looks like, and how they can still spend their week wisely during the pandemic. 
Lauren Dolan shared some of her favorite Thanksgiving activities with her family. 
"Thanksgiving break is one of the best breaks at SJA. It will be a little different this year though. In past years during Thanksgiving, we get to see my distant family I do not see often. We have a fun annual football game. I feel very connected with them," Lauren said.  "I get to see my cousins who come in town from Atlanta so it is a good time."
Lauren also discussed her plans with friends, which usually include a busy week with family and friends.  However, this year she knows they will have to be creative.
"Some ways could be bonfires, pumpkin carving, pumpkin patches, and apple orchards. All are great outdoor activities where social distancing can still be in place, while I enjoy this break with my friends and family," Lauren said.
Spending Thanksgiving with family is one of the most apparent celebrations of the holiday. While it is responsible this year to celebrate within your immediate family only, connecting with family via zoom is another option. 
Katie Wilke talked about the activities she is most excited for heading into Thanksgiving break, including shopping on Black Friday.
"It is one of my favorite parts of Thanksgiving break…because it gets me in the mood for the holiday season," Katie said.  "In the past some of my favorite deals were the 3 for 3 deals at Bath and Body Works. Through this deal I get some amazing smelling candles. I enjoy the decorations at Bath and Body Works too."
Although this year looks different, Lauren and Katie both suggested COVID-19 friendly activities to do over Thanksgiving break. Nevertheless, the meaning of staying thankful for everything does not change. Remember to continue expressing thanks for your life, despite the challenges this year.
About the Writer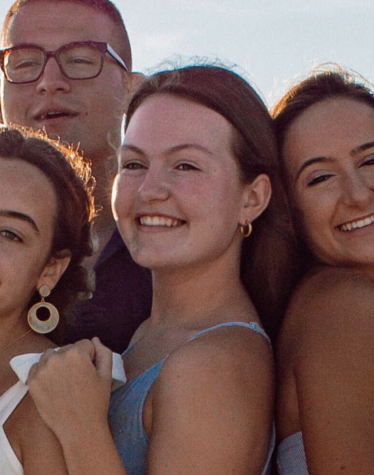 Lilly Skaggs, Senior Staff Writer
Lilly Skaggs is a junior at SJA. She is extremely excited about this unusual school year and is a senior staff writer for The Voice. Lilly's favorite subjects...