Angels Cause "a racquet" at Tennis Districts and State
Angels were back at it. Varsity tennis was striving to get its 17th state title. Districts took place on Oct. 2-3.. St. Joe played against John Burroughs for the state title.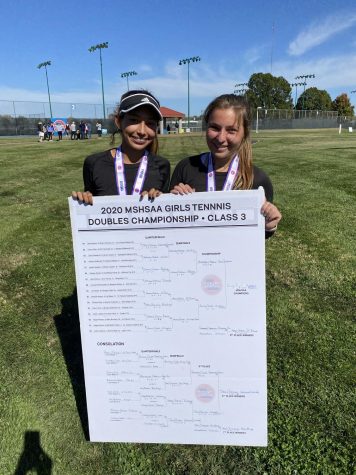 The Angels fought hard against the John Burroughs Bombers. It was a tough 5-2 loss against Burroughs. Although in Individual Districts, Ellie Choate '22 and Abby Gaines '23 took the victory sending them to state at the Cooper Complex in Springfield. Ellie and Abby battled their way to the State Finals. In the final match against the John Burroughs team, they won 6-4, 6-0, making them the state champions. 
Junior Ellie Choate has captured three state titles at St. Joe. She previously won with Alexis Woodman, who graduated last year. Ellie focuses her success more on the people surrounding her rather than the sport itself. 
"The best part of the tennis season is being part of a team," Ellie said. "Tennis is always so individual, so it is awesome to get to share the experience with some of my closest friends."
Tennis is a sport where players do not have a team cheering them on, while during the high school season their teammates cheer them on from the courtside and from other courts. On the court, teammates become close thanks to many doubles drills. Off the court, they keep their bond strong by making Tik Toks and eating snacks before matches together.
 Ellie's winning doubles partner, sophomore Abby Gaines has enjoyed her time on the court this year.
"The best part of the tennis season, in my opinion, is getting close with my teammates and having fun on and off the court." 
Everyone here at St. Joe is so proud of the tennis team for their accomplishments and hard work this year.
About the Writer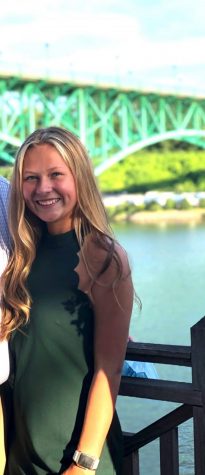 Brighton McDaniel, Senior Staff Writer
I am Brighton, I am a sophomore. Some clubs and sports I am involved in are YAG, STUCO, Angel Ambassador, and Varsity Tennis. In my free time, I enjoy...