Introducing STUCO President: Flynn Wiegner
The St. Joe student body recently elected the new Student Council President, Flynn Wiegner. Flynn exhibits her leadership skills well as she leads St. Joe through organizing school activities and bringing spirit to the community. She is the voice of the student body and is seen as a role model to the senior class as well as the underclassmen. Flynn has been described by her classmates and friends as bubbly, charismatic, and outgoing. With her spirited attitude, it is no wonder that when votes came in, she won the presidency. 
STUCO is the vital core of St. Joe. It consists of five elected representatives from each grade, as well as five elected seniors who sit on the executive board. Together, they plan events for the school such as Fall Ball, Father-Daughter, and the Blood Drive. Especially during school away from school (SAS), members of STUCO have been working diligently to maintain the community and spirit St. Joe offers by doing activities like virtual spirit week and Instagram stories. They are also in charge of planning M.O.R.E. days, in which a class comes in every Wednesday to partake in bonding activities and informative sessions. STUCO attributes their hard work to their two moderators: Mrs. Smith-Yelton and Mrs. Bisch. 
Flynn is a bright 17-year-old who loves being involved with St. Joe through multiple activities. When she's not in a class, you can find her participating in clubs like NHS, Beta Chi Pi, Mu Alpha Theta, and of course, STUCO. She has lots of experience with STUCO, having been a member of the committee since freshman year. Flynn has also been active in sports at St. Joe as a soccer goalie for three years. Flynn has always been an exceptional student, making high grades and developing meaningful friendships with her teachers. Over the years, some of her favorite classes have been with Mr. Yorg, Mrs. Bisch, and Mrs. Landherr. 
Mr. Jacob Yorg, the social studies teacher, says you can tell how much Flynn cares about her classmates.
"She has a desire to help [her classmates] grow as people both in and out of class. Characteristics like these are what will help Flynn work with STUCO to take the challenges this year offers and create a unique and memorable experience for all," Mr. Yorg, said.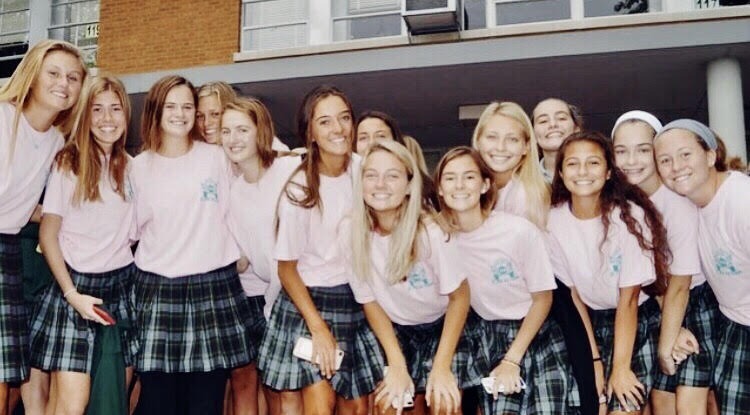 Not only is her favorite subject English, but she loves to write. Flynn perseveres through her work, even in her least favorite subjects of math and science. As a senior, her college search is close to being over, and she is considering going to Mizzou to study law. When she's not in school, she can be found shopping, working out, and spending valuable time with her family and friends. In the halls, students may also find her with an Iced Caramel Latte from Dunkin Donuts, since she believes Starbucks is overrated. 
When Mrs. Bisch announced her as STUCO President over the speaker, Flynn recalls being super ecstatic and calling her mom to tell her the news. Freshman year, Flynn was on STUCO and developed a close relationship with Meghan Martin, who was then senior president.
"She was a big influence on me as an underclassman, which motivated me to be president my senior year," Flynn said.
She also has other models in her life that have shaped her into the person she is today. Her #1 supporters have always been her parents, who push her to do her best. She also looks up to her grandma, who taught her the importance of kindness and being positive in the face of adversity. Flynn possesses this role model personality trait as well, being the oldest of three kids. She wanted to make St. Joe a fun environment for her younger sister, Brenna, who is a sophomore at the academy this year. She is also a big influence to her younger brother, Ryan. 
As STUCO President this year, Flynn is in charge of major roles to keep the school organized as well as the events functioning smoothly. She makes sure everything by STUCO is done exceptionally well and on time, especially when it comes to planning and organizing events. Flynn leads meetings and works with the whole committee to come up with new and engaging activities for the school. Over the years, Flynn's favorite events to plan have been St. Joe's annual Fall Ball for juniors and seniors as well as Father Daughter, which all four grades attend. 
"This year, there are a lot of aspects going on that we wish we could change, but unfortunately we can't. It's my job to make sure we work together as a school community and take on this year head-first," she said.
SJA is in safe hands with Flynn Wiegner as one of their prime student leaders. Over her last four years, she has contributed enormously to the school community, and she plans to continue that mission during her final year. She is eager to introduce new ideas to the community and is working hard to give St. Joseph's Academy the best opportunities this school year has to offer.  STUCO is excited to announce forthcoming events, even during this difficult time with alternate scheduling.
"Remember to stay positive," Flynn reminded.
About the Writer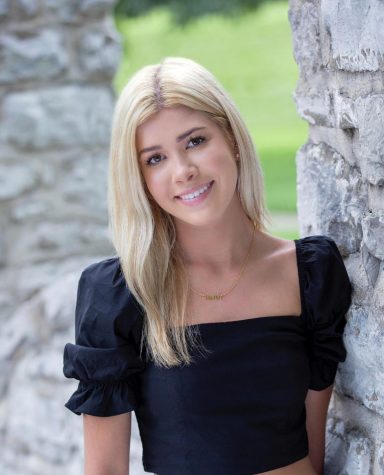 Lauren Stadnyk, Senior Staff Writer
Lauren is a senior at St. Joe, and she is excited to be a senior staff writer this school year. She is an officer for Beta Chi Pi, and a member of Rho...