Untraditional artists: Spotlighting Mr. Sullivan
Mr. Bob Sullivan is one of many new teachers who have started teaching at St. Joseph's Academy this 2020-2021 school year. 
Mr. Sullivan currently teaches Digital Photography and has plenty of experience as an art teacher. 
"I've taught every art class you can name except a fibers course," he said.
In fact, he has been teaching art for 11 years at several different high schools and colleges. In addition to his job at St. Joe, he teaches Digital Photography and Digital Short Film at Jefferson College.
Way before his days as an art teacher, Mr. Sullivan attained his first job at 16 where he bagged groceries at Schnucks and later worked in produce sections. 
"My favorite jobs are the ones with a great environment and community. It's not always about the kind of work as much as it is about the people you work with," he explained.
 Another job he had, which happens to be his least favorite, was working as a security guard.
"I worked as a security guard for a company that was contracted by the old Fenton Crystler plant. I would spend 12-hour shifts alone watching monitors and making sure no one stole the newly made vehicles," he recalls.
Mr. Sullivan received his Masters of Fine Arts and somehow found himself gravitating towards teaching, although that was never his plan.
His favorite course to teach is Digital Art, and he said he would love to teach it exclusively.
"I believe that it is the future of art and it holds the greatest rate of employment when you consider the art field. It's an exciting field that changes daily which makes it even more fun for me," he said.
As for his students, they appreciate his constant encouragement and help.
Junior Grace Andreatta is a member of his Digital Photography class.
"I like how whenever we have issues with a project or questions about our cameras or something along those lines, he's super patient with us and helps us work everything out," Grace said.  
On a personal level, Mr. Sullivan has been married for 15 years to his wife Tara, who is a second grade teacher in the Parkway school district. He has two daughters: Avery is in third grade named Avery and the Harper is in fifth. He also has two Shih Tzus named Leo and Lizzy. 
Mr. Sullivan also enjoys watching movies and television. He enjoys nearly all genres of film, and he especially loves watching the Criterion Channel. 
For anyone interested in becoming an artist or even interested in the art field, he recommends working hard to improve your skills.
"Talent is cheap in all areas of life. But, honestly, the biggest thing to consider is creativity and what it means. Just because you can't produce a realistic drawing does not mean you aren't creative. In fact, the most creative artists can hardly draw in a traditional sense or even choose not to work traditionally," he said. 
About the Contributor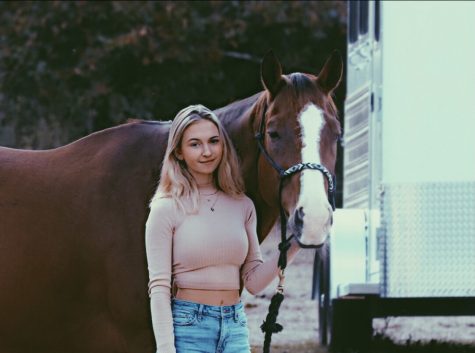 Lizzie Balestreri, Senior Staff Writer
Hi everyone! My name is Lizzie and I am in Spirit Club, HERstory, and Respect Life Club as well as a writer for The Voice. I enjoy running and spending...