Getting to know your freshman Class President: Ellie Poindexter
With COVID-19 being a factor this school year, it is often difficult for the Class of 2024 to get to meet and connect with one another. For any freshman who do not personally know their president Ellie Poindexter, here are a few facts in order to get acquainted with her.
Fact #1:
Ellie is a big One Direction fan.
Fact #2:
Her favorite color is pink.
Fact #3:
In her free time, Ellie participates in competitive cheerleading and field hockey.
What are you looking forward to this year?
"I am really excited to be having a leadership role where I can make an impact on the freshmen class. I'm also looking forward to being on the field hockey team and hopefully participating in games. I am also joining Club Happy and Spirit Club!"
What do you plan to do as president?
"As president, I plan to make this year the best that I possibly can. Due to COVID-19, we can't do many things that the student body was able to do in past years, but I want to work with the rest of the leaders at SJA to make this year the best we can. I also want to make sure that this year we can bond even with the coronavirus."
How has St. Joe been so far with covid?
"I love St. Joe so far. It is sad to see and hear about the upperclassmen's previous experiences at St. Joe and how much fun they have had [as freshman that we can't have]. Hopefully sooner than later, we can go back to normal. Luckily, the freshmen still get three more years after this to experience St. Joe."
What made you come to St. Joe?
"When I shadowed for the first time, it immediately felt like my home. When I walked in everyone was nice to me and actually talked to me instead of making me feel like I wasn't wanted. The teachers all introduced themselves to me and had a conversation with me as if they were my own teachers. The friends of my shadow talked to me throughout the entire day and made me feel like I was their friend."
What made you run for president?
"At first it all started as a joke. During quarantine, I was on FaceTime with a group of girls and I jokingly said: "Imagine if I was class president." We all started laughing, and then after the call, I actually started thinking about it. I wanted to have a leadership role and be able to make an impact at St. Joe, so I decided this was the perfect way to do so."
Ellie Poindexter looks forward to meeting her fellow classmates more and more and hopes to truly make St. Joe a fun place for everyone. If you ever see her in the hall, be sure to say hello.
About the Writer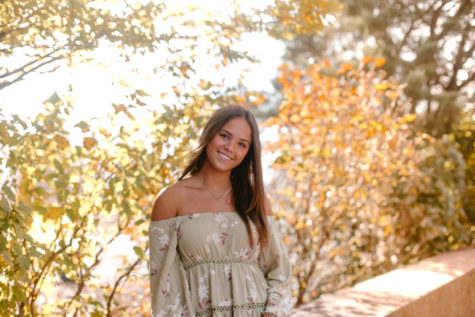 Grace Becker, Sports Editor
Hi Everyone! My name is Grace and I am currently a senior.  I have been writing and editing for the voice since my sophomore year. Some things I'm involved...