2020 Fall Bucket List: A guide to stay busy during COVID-19
Fall is the perfect time for participating in outdoor activities and getting ready for Halloween and Thanksgiving. The weather never disappoints. The temperature is warm with a perfect breeze, and the leaves gradually change colors as they fall. So, how can you make the most of this beautiful time? There are countless ways to simply entertain yourself, stay productive, and incorporate entertainment with productivity. Below is a list of various ways to make the most of this fall season.
1. Have a picnic
Not only is a picnic a super-easy way to socially keep your distance, but also it is the perfect way to enjoy beautiful fall weather, some delicious food, and the nature and park locations that St. Louis has to offer. Some location spots include: Forest Park, Tower Grove Park, and Shaw Park. Invite some friends, bring some blankets, and plan some delicious food whether that be pizza, sandwiches, or fruit salad. A picnic is a perfect way to safely stay social during this pandemic.
2. Go on a bike ride
Bike riding is a great way to stay active; furthermore, St. Louis is the perfect place to bike due to the many bike trails such as Grant's Trail or Creve Coeur Lake Trail. Grab a friend or family member and head outside on a beautiful fall day for a nice bike ride.
3. Have a campfire with s'mores
Fall is the perfect time for a campfire with friends. As the weather gets more windy and cool around October and November, a bonfire is the perfect way to keep warm. You and your friends can easily sit at a reasonable distance from each other to stay safe. In addition, who doesn't love s'mores? Grab some graham crackers, marshmallows, and chocolate, and enjoy a delicious warm s'more.
4. Go pumpkin picking
Fall is the perfect time for pumpkin picking, especially with Halloween and Thanksgiving just around the corner. Go to a pumpkin patch with friends or your family members, and take your pick. From giant pumpkins to miniature ones, you can choose whichever one appeals to  you the most.
5. Carve or paint a pumpkin
To prepare for Halloween or Thanksgiving, decorate a pumpkin. Show your creativity by carving your own jack-o-lantern. Compete with friends and family members to see whose is the best. You can also paint a pumpkin if that suits your personality more. Whatever you choose to do, personalizing a pumpkin brings out your creativity and imagination.
6. Make some fall recipes
Fall is the perfect time to experiment with new recipes and sweets, especially food involving pumpkin. Whether that be pumpkin soup or pumpkin pie, enjoy trying out new recipes and preparing delicious meals and desserts for your family members.
If you are looking for some pumpkin recipes, check out: www.delish.com/cooking/g1770/best-pumpkin-recipes/ 
7. Go on a hike
Biking is not the only way to stay active during the fall. Hiking is also a simple and great way to stay active. Grab a friend, and walk at your pace. You can easily distance yourself while still enjoying a relaxing and easy-going conversation. St. Louis offers some great sites for hiking also including Castlewood State Park, Grant's Trail, and Katy Trail State Park. However, you can also just take a walk around your neighborhood or at a nearby park.
Senior Lauren Degrand said, "I found a new hobby over quarantine going on hikes and long walks. Sometimes I would go alone, but most of the time, I walked with my friends. I definitely will continue this during fall when the weather is absolutely perfect."
Whether you pre plan a walk at a park or simply walk around your neighborhood, it is a great way to stay active during fall weather.
8. Go to a drive-in movie
Who doesn't love watching movies? A drive-in movie is a phenomenal way to add something a little extra to a movie-watching experience. Skyview Drive-In in Belleview, Illinois is a great place to go when you are bored with plenty of time. Bring some friends and enjoy a nice movie on a beautiful fall evening.
9. Watch a horror movie
With Halloween approaching, there is no better time to watch a scary movie. From The Purge to The Conjuring, Halloween calls for some frightening screams or jump scares. Grab a friend, and have a fun night full of creepy music and terrifying characters.
Senior Grace Kertz said, "This is my favorite time to watch horror movies. The unpredictability always keeps me on my feet because I never know when the next jump scare will be. My personal favorite is Truth or Dare."
Whether you watch scary movies alone or with friends, it is the perfect activity to get you ready for the Halloween season.
10. Go stargazing
For all the astrology lovers, stargazing in fall is the best time to not only examine the constellations in the sky, but also it can be super relaxing and calming. Destress from the business of school and life, and look up at the stars one night. Fall offers the best temperatures for a cool and breezy evening to look up at the beauty across the night sky.
11. Read a book 
Fall days can be the most inspiring days to go to a park or sit outside and read a book. With the leaves falling, a delicate breeze, and the cool air, it is the nicest time to open a good book. Some book selections include: Normal People by Sally Rooney, All the Bright Places by Jennifer Niven, and Looking for Alaska by John Green.
12. Stay active
As broad and basic as staying active may seem, fall is a great time to reset your fitness goals before winter starts. Fall weather is perfect: not too hot and not too cold. Therefore, you have no excuses to stay inside and sit around. Grab a friend or a family member if you need an accountability buddy. Start small and build your way up to reach your fitness goals. This can consist of anything such as: walking, running, biking, playing tennis, and more.
13. Fly a kite
As childish as flying a kite may seem, who doesn't love to feel like a child and take a break from the busyness of teenage life? On a windy day, go to a park, and fly a kite. It will give you an escape from the stress of everyday life.
14. Jump in a pile of leaves
It is that time of year when leaves begin to fall. And when leaves fall, someone has to rake them to keep your yard looking clean. Do your parents a simple favor and rake leaves for them. Before piling all the leaves into bags, take a large jump and enjoy some childish fun. Not only is it enjoyable, but also it is helping your family out with chores.
About the Contributor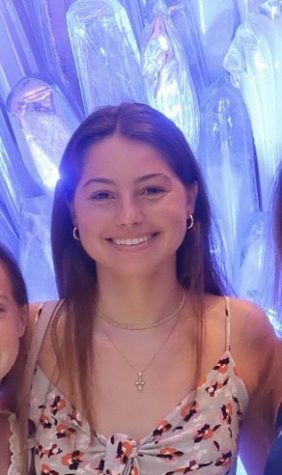 Anna Carollo, Digital Editor
Anna Carollo is a senior and Digital Managerial Editor for the 2020-2021 school year. Anna is a member of NHS, NEHS, and Mu Alpha Theta. She is also an...