Spotlighting St. Joe's Droopy-Eared Mascot
As soon as St. Joe students hear barking and quick, excited footsteps pacing down the hall, the entire community knows exactly who it is: Lily. For anyone who is not familiar with Lily, she is a 52-pound yellow lab who trots the halls of  St. Joe. She can often be seen with senior Amber Kopf or Dr. Regina Mooney, St. Joe's President. Lily brings loads of joy to stressful weeks and loves the attention she receives from the girls. 
Lily was added to the community in February 2020 when she was an auction puppy at the 2020 Annual Dinner Auction. Everyone in attendance fell in love with her, especially Dr. Mooney, who had established a relationship with the puppy. 
She was convinced that she would never get another dog after Chevy, her previous yellow lab, until she was retired
"I never thought after Chevy that I wanted a dog at all, but Lily has been so easy to fall in love with," Dr. Mooney said. "I can't imagine not having her around." 
Another concern with Dr. Mooney's ownership of the dog was the fear that her city apartment wouldn't be able to satisfy a rambunctious puppy. That all changed when people started bringing the prized auction puppy up to her. When the auction night came, Mooney did not expect the amazing gift she would be receiving. To her surprise, a group of three parents and alumnae sitting with her conspired to bid on her. When they all chipped in, the parents donated her back to the school and Dr. Mooney. Those generous parents include: alumna parents Zarnice and Zach Little, alumna parents Keely and Kevin Travers, and aunt of an Angel Kathleen Moore Matecki (Class of 1974) and her husband Paul.  These family members  receive credit for the opportunity for St. Joe to have their own puppy. So, thank you!
On the night of the auction, St. Joe raised more than $700,000 to add new features to the school; in fact, $20,000 came from Lily's purchase. She became an immediate celebrity, and Dr. Mooney was even asked about the new puppy at the De Smet auction. 
Lily is currently eight months old, and according to Amber Kopf, Lily just learned how to play with a frisbee. Ever since Lily's arrival at St. Joe, Amber has been coming in to help take care of the hyper puppy. Mooney went on to say that Amber is a "godsend" for keeping Lily active on the weekends. Amber has fostered dogs in the past, so she was naturally drawn to her. 
"Lily is an energetic and playful puppy who learns quickly," Amber said. "She is definitely a people person and loves being on campus with the students." 
Make sure you don't lose your shoes because this quick pup is at the stage of chewing everything she can get her paws on. Some might call her an attention seeker, since she will make sure to push her nose into your elbow for some time outside. She even spent her summer going to boarding school, where she learned manners and a few tricks.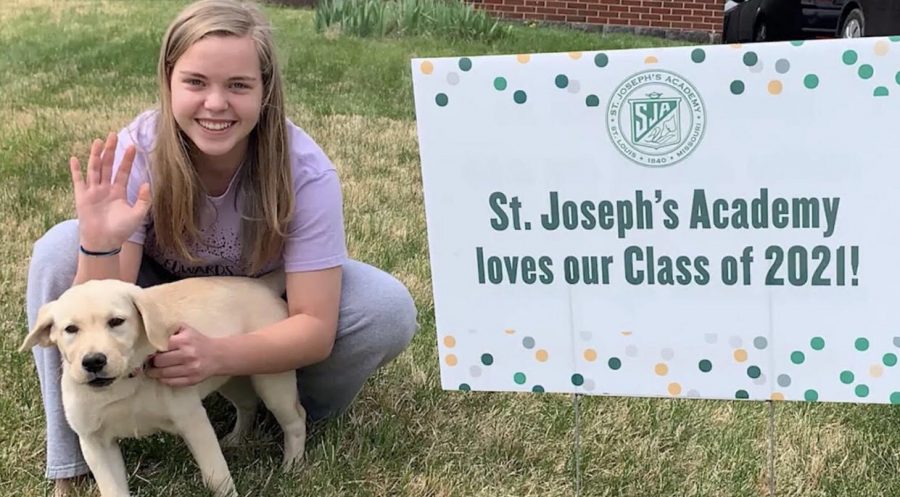 The lab can be found in Dr. Mooney's office during the school day, with students coming in and out during their free time to hang out. Dr. Mooney encourages all of the girls to stop by since she will never pass up an opportunity for a walk. 
"I want her to be able to run around on the campus," Dr. Mooney. 
She needs all the Angels' support, as the puppy is encouraged to be shared throughout the school environment. 
Lily's addition to the St. Joe family has fostered joy in the hearts of each Angel and has done wonders to unite St. Joe as a whole. The community is very happy to share their space with the not-so-little-anymore puppy.