The Class of 2020 Graduates Through COVID-19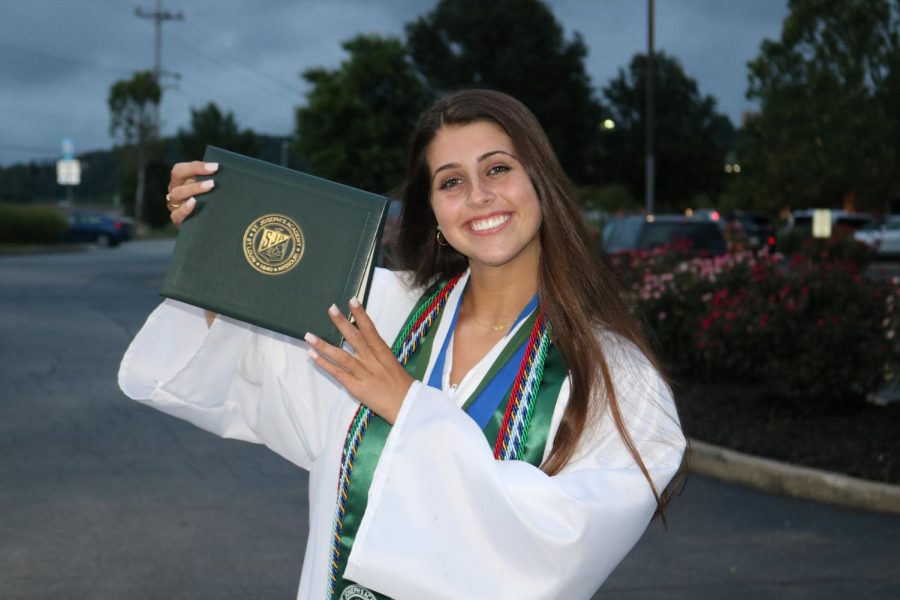 High school graduation is arguably one of the most memorable and anticipated events in high school history. We can thank High School Musical for the inaccurate high expectations of graduation. Like all other classes, the Class of 2020 was highly anticipating their senior graduation. Then, COVID-19 unexpectedly hit, completely transforming their last months of high school. The typical May graduation full of hugging and closely placed seating arrangements became a July graduation full of social distancing. 
Graduation took place on July 30, 2020. The graduation ceremony had to take place inside the gym, due to unfortunate weather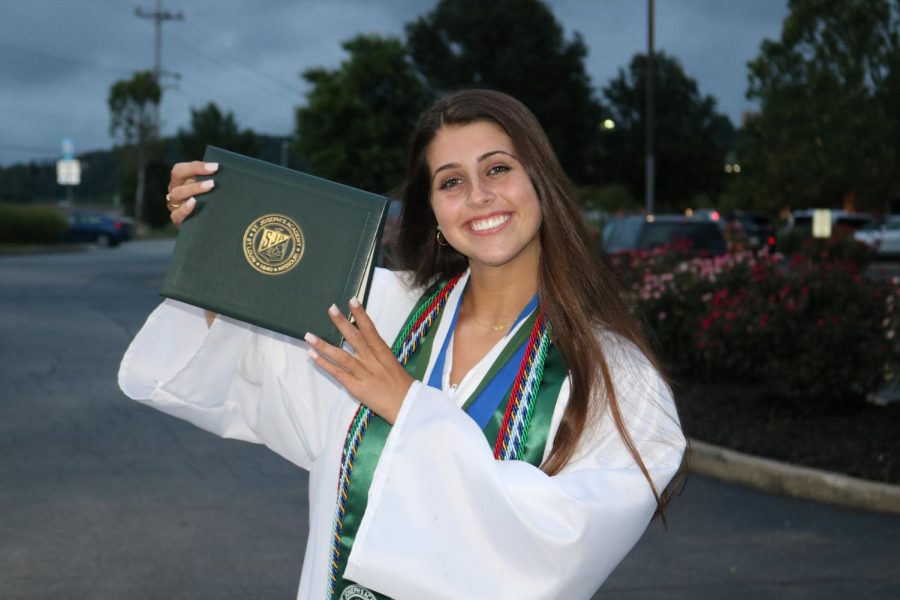 circumstances. As far as safety guidelines were concerned, all of the chairs were placed six feet apart, and everyone had to social distance from the time they walked into the time that they left. Masks were also required. The usual, "Dr. Mooney handshake while accepting the diploma," became a hand-sanitized air high-five. 
Abby Koch, a member of the Class of 2020, recognized that this graduation was different from the normal May graduation. 
"While I would have rather had a normal graduation, I'm very thankful for the SJA faculty for putting on the makeshift graduation and allowing us to close this chapter of our lives," Abby said. 
Mallory Kimes, the class valedictorian, was also thankful.
"I thought St. Joe did a really good job at how graduation was set up," she said. "They worked so hard, and it was definitely rewarding to see our classmates for the last time before we headed off to college. I know I enjoyed getting to speak to my class and look at everyone one last time."
Mallory expressed this in her valedictorian speech.
"Although this year was not ideal, the greatest blessing that came out of it was being able to spend some of our last time at home, SJA, with each other, and with some of our faculty." Mallory continued by saying, "Walking into the school for the first time in like four months was like coming home after a long trip, and it was amazing to see the smiles in peoples' eyes, and you could tell they were smiling under their masks as you saw each other for the first time in a long time. With the short end to a senior year, I realized I should have panicked less and spent much less time on my phone and instead spent more time with the people at St. Joe. Looking back at this from college, I am emotional because St. Joe truly meant so much to me." 
Emma Mueller from the Class of 2020 also gave insight on the graduation. 
"I thought that St. Joe made the absolute best out of the situation," Emma said. "They gave us a much better situation than most other schools had. It was not the typical graduation, but I am still extremely grateful." 
All of these alumnae reflect on their memories of graduation with grateful and sentimental hearts. If anything, the Class of 2020 helps all other grades understand the importance of living these four years up as much as we can at St. Joe without taking a single second for granted.
About the Contributor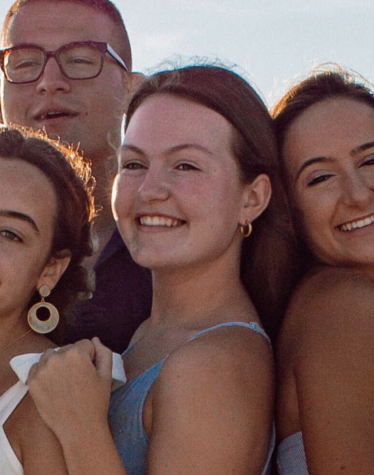 Lilly Skaggs, Senior Staff Writer
Lilly Skaggs is a junior at SJA. She is extremely excited about this unusual school year and is a senior staff writer for The Voice. Lilly's favorite subjects...