The Making of Music of the Night
Andrew Lloyd Webber, a Tony, Grammy, and Academy award winning musical theater composer, is well known across the globe, for his compositions. He is most famously known for his music in The Phantom of the Opera, Joseph and the Technicolor Dreamcoat, Jesus Christ Superstar, Evita, Cats, and many more! St. Joseph's Academy's annual spring revue this year pays homage to this incredible artist, featuring songs and dances from some of his popular and lesser known, yet equally fantastic, pieces. Director, Mrs. Albes, explains that his musicals are both deeply moving and upbeat! Mrs. Albes continues, "From the beginning, we've found it challenging to select from the many of Andrew Lloyd Webber's songs. There are more wonderful songs than what we could include in our show."
Cast and crew members are working tirelessly to put together such a challenging show. The show incorporates various characters and plot lines from Webber's numerous shows, so one of the biggest challenges for cast and crew members is to tell the story through acting, minimal costuming, and set structure. The show, featuring over thirty songs from twelve musicals, is extremely challenging both vocaly and in terms of choreography. Sophomore, Sophie Gloriod, shares, "I love when everyone is laughing and having fun during rehearsals, but we are also able to work hard and do our best to make the show amazing."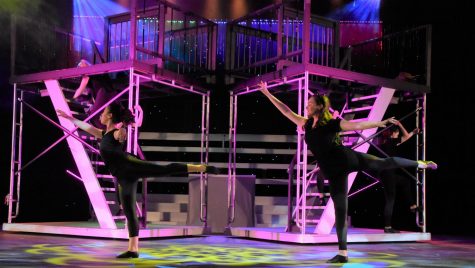 The set, designed by Brian Ebbinghaus, has two rolling towers that have given us unique staging and choreography options. Freshman, Sahiti Mumgandi, joyfully shares, "My favorite part of the show is definitely the music. I love the songs and how they work with the staging!" The set is adorned with hanging pieces and beautiful lighting. The costumes with the props add great imagery to the story of that particular musical being performed. But most of all, the show is bright and full of light. Despite the amount of content, the show is deeply interconnected by Webber himself. Junior, Natalie Murray, explains, "…there are so many parallels in his music! You'll be hearing one part of a song and you'll think 'omg this sounds just like this one part in another one of his songs' and it's so fun to have those moments!" Andrew Lloyd Webber is truly a musical sensation, which is clear through the wonderful energy and beautiful pieces he gives St. Joe's musical revue: Music of the Night. Don't miss the show: May 9th and 11th at 7 PM!
About the Writer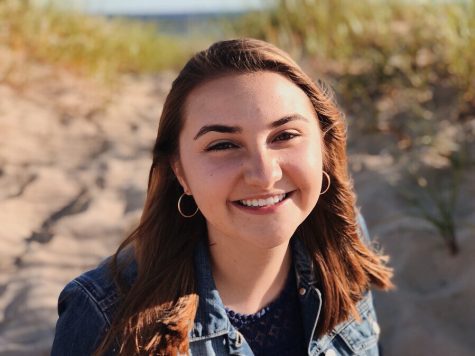 Mary Hayes, Editor-in-Chief
Mary Hayes is a senior and Editor-in-Chief for the 2019-2020 school year. Mary is a Campus Ministry Homeroom Rep, a Beta Chi Pi officer, and production...