Strong Start to Swim Season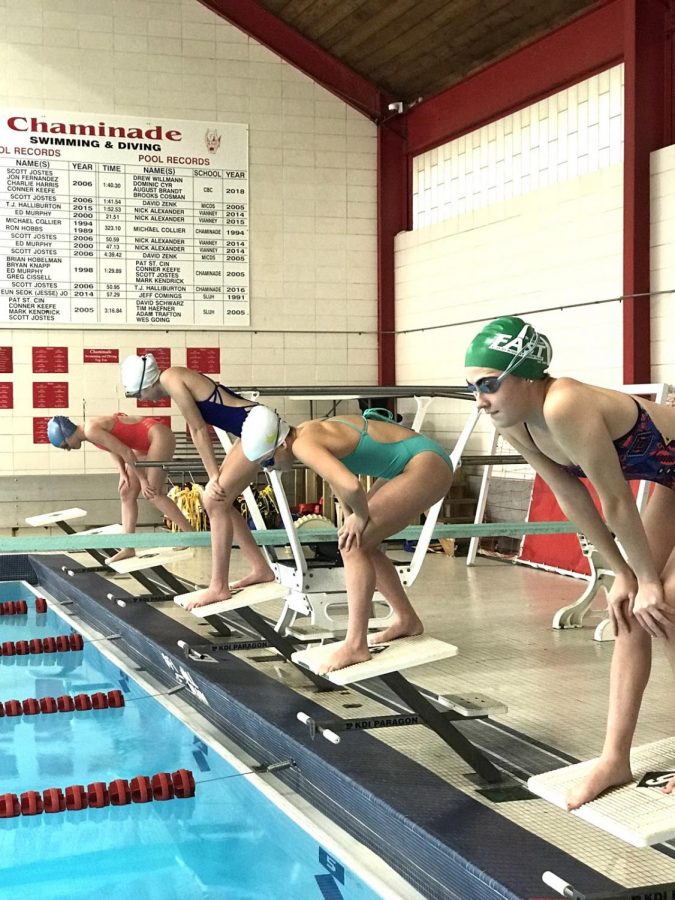 Katie Kostecki and Mary Kilcullen
January 15, 2019
The St. Joseph's Academy Swim and Dive Team competed in their first two dual swim meets on November 29th and December 3rd against MICDS and IWA. They came out with two outstanding victories to kick off the season.
A few of the girls from the team even earned consideration times for state. It looks like the girls are going to have a great swim season this year! Seniors, Gretchen Allman, Ally Duggan, Mary Evans, Jane Lewis, Ana Maria Vasquez all participated in the 400 freestyle relay at the MICDS meet with a great start to their final season. Grace Hattrich, a junior on the team, also shares this enthusiasm for the rest of the year.
"We are really excited for conference, and are looking strong so far," Grace said.
The team is also looking forward to upcoming charity work this the season, led by Coach Tracy Baer. They will be participating in a team donation for Hope Lodge, with the American Cancer Society. Hope Lodge houses cancer patients for free medical treatment. The girls are delighted for this bonding experience as well as the opportunity to help give back to the community.
This year is freshman Kelsey Kimes' first year on the swim team. She swam in both of the first two meets, competing in the 100 butterfly at MICDS and the 500 free at IWA.
"I have swam before on a summer swim team, so my friend convinced me to swim for St. Joe. I'm so glad she did," Kimes says.
The team practices everyday at Chaminade's pool for two hours after school. The swimmers take four of the six lanes, while the divers practice in the middle two lanes. The main focus of practice varies each day, and are a mixture of sprint and distance free, stroke, and IM. Many of the girls believe that practices are hard, yet beneficial.
Junior Hayden Hulett is excited for the rest of the year. This year marks Hulett's third year on the team, and she started the season with the 200 medley relay at the meet against Incarnate.
"The team is really fun this year, we have already had one team dinner and plan to have several more throughout the rest of the season. The dinners give us a chance to bond outside of the water," Hulett says.
Overall, the Swim and Dive Team is off to a great start, with victories in their first two dual meets.