Maddie Loe: Day in the Life of a Synchronized Figure Skater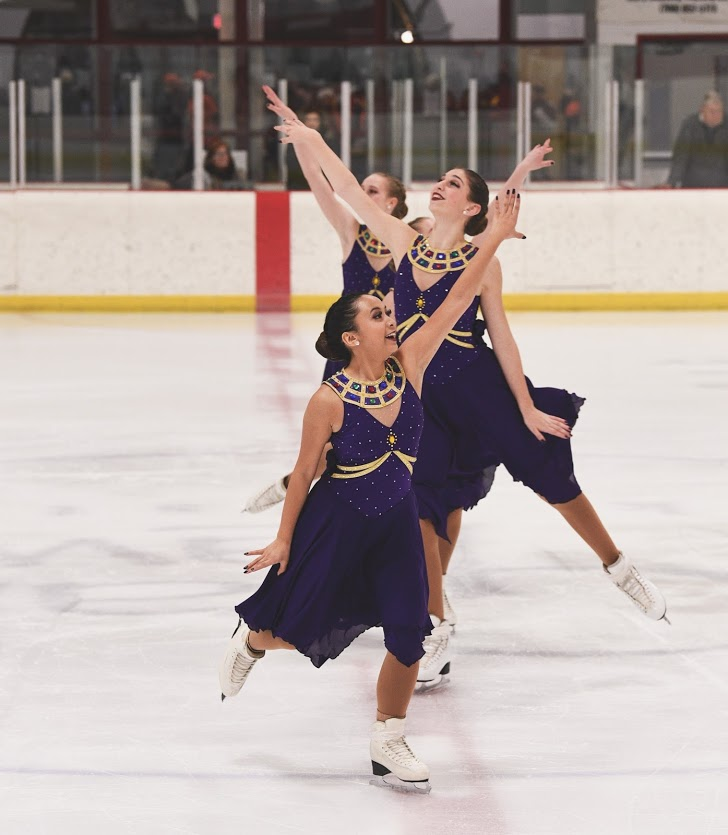 Natalie Mispagel, Staff Writer
January 22, 2019
Senior Maddie Loe has a busy life full of synchronized skating, individual practice, and school.
Synchronized skating is a team event where there are a total of 16 skaters on the ice at the same time. Maddie Loe skates on the Junior level team, the second highest level in the United States Figure Skating Association. In the Junior division, elements such as synchronized spins, twizzles, and a series of turns must be completed.
Maddie said there is a lot of pressure in ice skating.
"The Junior division is by far the hardest division I have ever skated in, but I know that, as a team, we will work hard and constantly push ourselves to be better, and hopefully be selected for Team USA next year!" she said.
Maddie started figure skating at the age of 4, and has been skating for the last 13 years. A typical day in her life includes waking up around 5am in order to make it to practice by 6:30.
"Balancing school and skating can be hard at times, but I love to skate, and waking up at 5 in order to do something I love, makes the wakeup not so terrible," Maddie said.
Charity Hendrickson, one of Maddie's coaches, knows Maddie's dedication to her sport.
"Maddie continuously strives to better herself, and works tirelessly to help the team. She creates a great support system for the girls," Coach Hendrickson said.
After individually practicing for one hour on the ice from 6:30-7:30 am, Maddie rushes to school. After a seven hour school day, she leaves St. Joe and heads for Kaldi's coffee shop to finish some homework before heading to practice once again. Then, she has team practice from 7-10:30pm.
Although her schedule can become quite tiresome, she says it keeps her on her toes and has taught her valuable time-management skills.
"Skating gave me some of my best friends and created memories that I will cherish for the rest of my life," Maddie said.
In the 2016-17 skating season, Maddie's Intermediate skating team achieved the pewter medal, granting them a trip to nationals to compete among the best teams in the nation. Last year, Loe's team got fifth place out of 22 teams, being only one place from making national competition. However, Maddie hopes to make it to this year's nationals in Plymouth, Michigan, and place among the top six, in order to be granted Team USA next year.