Art students create creative posters for St. Joseph's Academy's re-creation of Little Women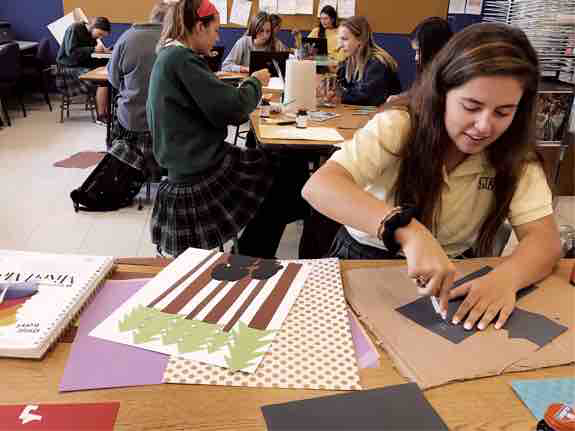 For three weeks, design students worked on posters to be shown online and in the halls of SJA to provide information on the production Little Women that's performed by the students of St. Joseph's Academy.
"Last year Mrs. Albes had reached out to me to see if I knew of any talented students in the art department who would be interested in working on poster designs for the shows that are put on throughout the year," design teacher Mrs. Katie Schaefer said. " I immediately thought of the students taking the Design class.  This is the first year we really got the collaboration going."
The students designed posters within the time span of three weeks. The project had to include a 3D collage of paper. This includes layering paper on a poster. Each poster has to relate to the musical Little Women. The wording on the poster had to be in a specific order according to the creators of the original musical.
"It took me about 2-3 weeks of classes to complete all the work for my poster but it took me about 3-4 class periods to complete the construction of my poster and 1-2 classes to complete my text in Photoshop," student Emily Gegg said.
Each student used their own creativity to create a poster. They spent several class periods constructing their posters to complete their idea of what it should look like. Upon completing the posters, each student wrote a page reflection on their projects.
"I enjoyed the freedom we had to be able to create whatever style poster we wanted as long as it followed the few guidelines we had," sophomore Madison Simons said.
Sophomore Emma Mueller won the contest!