Alumna Service: Annie Baalmann DeBoer '84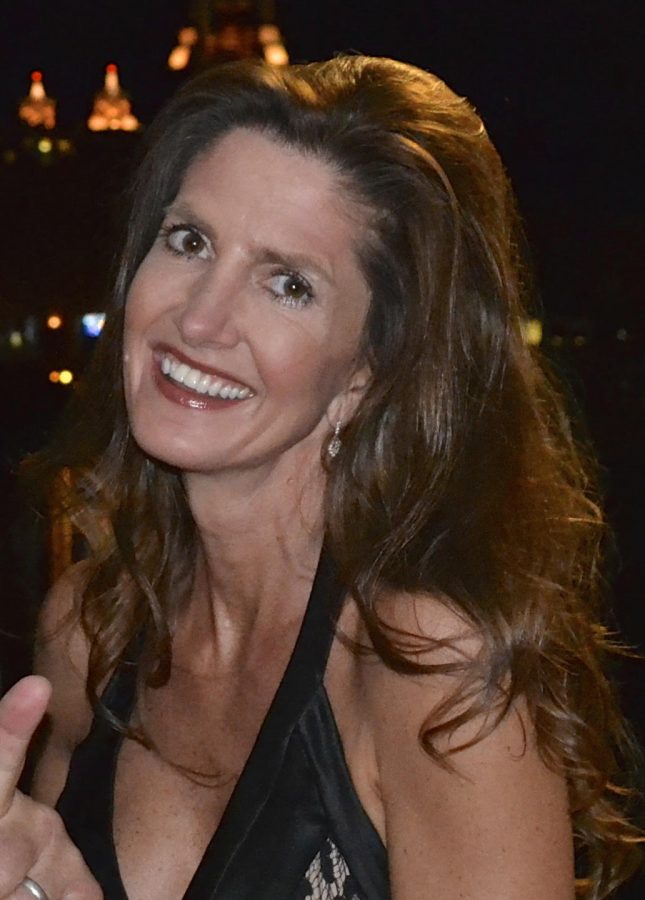 Madison Guzy, Features Editor
February 11, 2018
Annie Baalmann DeBoer, class of '84, has served the dear neighbor without distinction for her entire life.  She serves people in the United States as well as other countries around the world from Uganda to Myanmar.  She grew up with the desire to serve and exemplifies the St. Joe model of "Not I, But We."  In 2017, at the start of the school year, she was invited to speak to the SJA community on a panel about making an impact on the world.
After graduating from St. Joe, she started college at Saint Louis University, later transferring to Loyola University of Chicago where she received a bachelor's degree in business administration and majored in marketing.
As a student at St. Joe, she participated in service such as Mission Week, but she went above and beyond outside of school.   DeBoer served at Rural Parish Workers of Christ the King which is based in Washington County, Mo., which is one of the poorest areas in the entire state.  She accompanied her mother and friends to help out at an annual fundraiser they began in the late 1960s for the charity.  
DeBoer also served at the international charity Boys Hope Girls Hope which was founded by a Jesuit priest and DeBoer's father played a large role in starting the organization.  Boys Hope Girls Hope provides homes and Catholic education for at-risk youth.  Growing up, her family housed the first two students while their house was being built by St. Louis University High.  
Additionally, DeBoer worked at Edgewood Children's Center, founded in the 1700s in St. Louis.  Its original purpose was to care for children left behind by parents who died from illness or who moved west into Westward Expansion, but it has grown into a larger organization that provides housing and education for children suffering from various emotional and psychological disabilities.  As a young adult, she held the position of President of the Junior Board in which she dedicatedly worked on a fundraiser she co-founded, called In the Vineyard, which is held annually at Plaza Frontenac.
Annie Baalmann DeBoer continued her devotion to serving others into adulthood when she moved to Colorado with her husband and became involved in new organizations.  Still today, she is very active in Action and Africa and the DeBoer Foundation.  She is on the board of directors for Action in Africa in addition to participating in many annual fundraisers and helping the President of the organization with planning and financials. She also works with The DeBoer Foundation, which was founded by her mother-in-law and father-in-law.  It provides leadership development for people from Burma, now called Myanmar, which allows those leaders to bring change to their country.
Through the influence of her parents' devotion to service, she describes it as being a "part of her moral compass."  Being the youngest child, she would accompany her parents to volunteer at various organizations while her older siblings were at school.  She observed her parents give – not just money — but time, effort, and energy into serving the dear neighbor.  
"
It's almost like I never thought of anything else—never thought of not doing service work because it was always kind of a part of my life"
— Annie Baalmann DeBoer
"It's almost like I never thought of anything else—never thought of not doing service work because it was always kind of a part of my life," she said.
Attending St. Joe also had an impact on her, reinforcing the lessons taught by her parents about service.  She was impressed by the Sisters of Carondelet's mission work, and they even inspired part of her desire to travel.
DeBoer is currently training a therapy support dog to provide support to people suffering from Post-Traumatic Stress Disorder (PTSD) because she wants to give back to the veterans who serve our country because she has so much respect and gratitude for them.  Once fully-trained, the dog will also provide therapy for senior citizens with Alzheimer's disease. She notes that she has already witnessed the positive impact the dog has had on her own father who is currently suffering from the disease.
Annie Baalmann DeBoer is full of gratitude for her life and her family.
"I feel very blessed and very grateful that I've had such an extraordinary life," she said. " I feel a responsibility to give back, but it's like a privilege and a pleasure to give back; it gives me great joy and purpose and fulfillment when I'm able to reach out and help others."
To the girls at St. Joe, Mrs. DeBoer would like to remind them that "The world can be your home and your family.  The world can be your classroom.  The world can be where you work.  The world can be your community.  You can find so many ways to have a positive impact in the world right where you are…Service can be big, and it can be international, and it can be profound, and it can impact a lot of people, or it can just have a meaningful impact just by the little things you do to make the world a better place."  
Serving others does not have to be on a global scale.  People can find great joy in serving others in even the seemingly smallest of acts because they, too, can provide joy for others.  She says it can be as simple as checking up on an elderly neighbor or grab their newspaper or pick up their groceries.